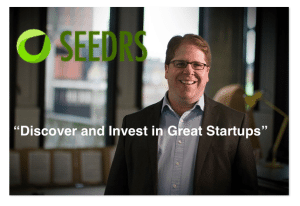 Seedrs opened up an investment round in their own company for investors on their platform to join the equity crowdfunding odyssey.  Seedrs very best investors were given early access to the £2.5 million set aside for users at 9AM today.  Pre-money valuation was set at £27.5 million. Other registered users were given access at 12 Noon GMT.  Investors were accepted on a first come, first serve basis.  While CEO and co-founder Jeff  Lynn expected much of the funding to be quickly scooped up by existing shareholders – he also stated there would be a "good bit of room" for new investors.
Apparently the funding round has gone rather of well.  In a series of tweets Seedrs revealed that £433,602 per hour, or £7,227 per minute of cash rolled in via their platform today.  Investors in Seedrs averaged about one investment every 25 seconds. Not too shabby.
What a great afternoon on Seedrs, with an avg. £433,602 invested per hour. That's an incredible £7,227 per minute.

— Seedrs (@Seedrs) August 21, 2015

---
Happy Friday! What a tremendous afternoon for investment on Seedrs, with an avg. of 1 investment every 25 seconds.

— Seedrs (@Seedrs) August 21, 2015
The Seedrs self-crowdfunding round was part of a larger capital raise that took place last month. Seedrs is expected to use a portion of the funds to expand in the United States equity crowdfunding market.  Lynn, a US citizen by birth, previously practiced law at a prominent US law firm.