On Thursday, Kickstarter hosted its fifth annual film festival in 35 theaters nationwide. The event showed off some of the best features, documentaries, and shorts funded through the crowdfunding platform.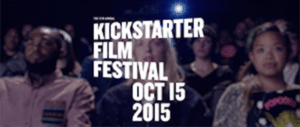 The Kickstarter team previously declared:
"For one night only, 32 theaters across the country will be screening our biggest festival yet. We combed through thousands of the features, documentaries, and shorts funded on Kickstarter to pick out an incredible program for you – including hits from Sundance, groundbreaking animation, and one knockout documentary."
Following the film festival, the crowdfunding platform took to its social media accounts to thank fans for supporting the annual event:
"Last night, friends from all over the country crowded into 32 theaters to enjoy five terrific Kickstarter-funded films, and a lot of popcorn was consumed. It was the Fifth Annual Kickstarter Film Festival — our biggest ever! — and oh, what a magical evening it was.

"A huge thanks to everybody who joined us at the East Village Theatre in NYC, where our own Yancey Strickler hosted alongside "T-Rex" filmmakers Zackary Canepari and Sue Jaye Johnson. We can't wait for next year!"
Until next year, film lovers!