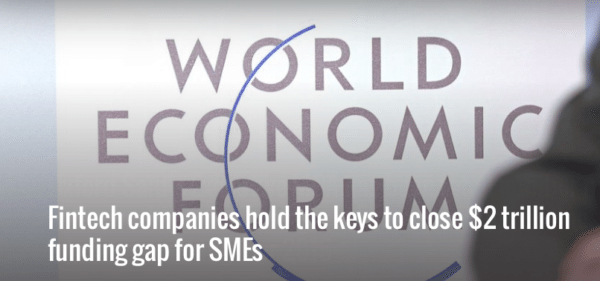 Fintech companies could provide relief for small to medium-sized enterprises (SMEs) by helping to close a $2 trillion funding gap for SMEs worldwide seeking credit to grow their business, suggests a white paper released by the World Economic Forum's Global Agenda Council on the Future of Finance and Capital.
"Financing for SMEs is lacking although there is an ample amount of cash ready to get deployed. But in this case fintech disruptors are increasingly filling the gap banks and investors leave. SMEs can turn to them to get the credit needed to grow their business, as fintech is providing a much needed relief to small businesses around the world," commented Michael Koenitzer, Financial Inclusion Project Lead at the World Economic Forum and Council Manager.

The paper, which was written under the guidance of members of the Global Agenda Council by a team of MBA students from Saïd Business School at The University of Oxford, revealed that fintech companies are leading the way in disrupting innovation in the financial services sector and are offering tailored services to SMEs in the areas of equity crowd funding, lending, market place solutions and invoice and supply chain financing.
Banks have complex guidelines for approving SME lending and many reports suggest that they are often reluctant to lend to smaller companies due to the low-scale financing deals required, stated the release. However, the paper found that fintech companies are more willing to lend to, and provide new tailored products to SMEs, and statistics show that equity investment into fintech businesses increased four times the amount in 2014, from $4 billion in 2013 to $12 billion in 2014.
"Small businesses account for more than half of the world's GDP and two-thirds of all employment. If fintech can provide levers to help them succeed, we should create the right environment to make this happen," commented Peter Stein, Director of Finance and Markets Global Practice at the World Bank Group.
According to the paper, the need for SME financing is a global requirement, with countries such as the UK, Italy, Spain, the Netherlands, Nigeria, Morocco, China and Canada amongst the countries which describe access to finance as a top three business concern.

Sponsored Links by DQ Promote