Symbid (OTCQB:SBID), one of the world's first investment crowdfunding platforms, announced on Monday that it has reported 30% in revenue growth during 2015's third quarter.
Korstiaan Zandvliet, co-founder and CEO of Symbid, shared:
"We are delighted to report continued strong revenue growth from an increasing number of revenue streams. The diversified product portfolio of The Funding Network has delivered promising results in the first six months since its launch in March and is creating real value for investors and entrepreneurs. Clearly there is huge potential to further commercialise our transaction volume. The consistent growth in revenue we've been seeing in 2015 gives us the foundation to do just that while we continue to innovate at the forefront of online funding."
He also noted:
"In the context of this expanded product portfolio for investors and entrepreneurs we continued to grow our core business with transaction-based crowdfunding revenues up 16% from the same period last year. It is satisfying to see that we are continuing to grow ahead of the market in equity crowdfunding. Meanwhile, the successful release of our loan product not only adds another revenue stream to our core crowdfunding business but also strengthens our position as a leading European online funding platform.

"We believe this is a key differentiator in what is a highly competitive alternative finance market. Of course, our crowdfunding platform now forms part of our complete funding offering to start-ups and small businesses: The Funding Network. This is also reflected in the addition of new revenue streams in this quarter including registration fees and monthly recurring monitoring fees. Furthermore, the granting of an equity crowdfunding license to Symbid Italy by the Italian authority financial markets represents a key milestone in our international expansion next to the continued development of Symbid Germany.

"As we look ahead to the end of the year I see enormous potential for the Company if we can continue to build on this strong revenue growth. The market's reaction to the launch of The Funding Network has been positive and our progress so far in commercialising this innovative product portfolio is encouraging. I am confident that the foundations for the Company to become the leading European online funding platform in 2016 are now in place."
Summary of Third Quarter 2015 Financial Performance:
Total revenue increased by 30% compared to prior year period to $68,766.
86% of revenue attributable to transaction-based model of core crowdfunding business, compared to 96% in same period 2014, due to new revenue streams from The Funding Network.
Selling, general and administrative expenses decreased by 17% from same period 2014 to $374,436.
Total operating expenses decreased by 24% from same period 2014 to $631,938.
Net losses decreased by 16% from same period 2014 to $632,293.
See the entire Third Quarter report below.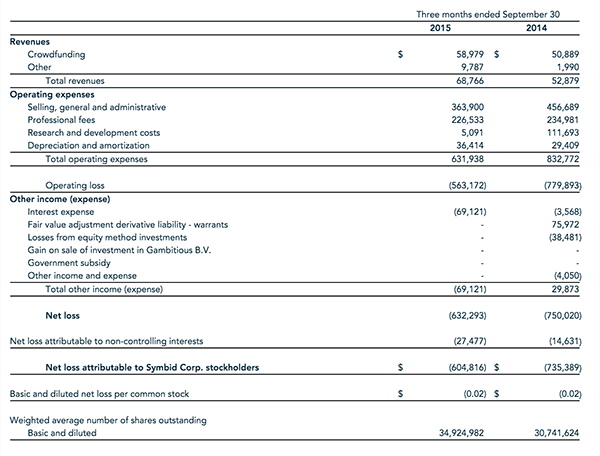 Sponsored Links by DQ Promote