On Tuesday, CrowdRise launched its second annual Giving Tower campaign and also debuted its interactive virtual reality (VR) experience app to help donors and charities to visualize social impact on #GivingTuesday.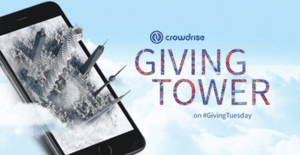 The Giving Tower campaign and free app offer charities and their supporters VR technology at no cost to bring to life their collective efforts on the biggest charitable day of the year, held next Tuesday (December 1st). 
CrowdRise's VR app will take the user into a virtual city that shows the Giving Tower, juxtaposed amongst the world's most iconic buildings, as the Giving Tower grows built brick by brick. Every brick in the tower represents a donation to any of the 1,000-plus participating charities. Starting today, the free CrowdRise Giving Tower app will be available in the iTunes store and Google Play. Last year's campaign raised $4.1 million and constructed a tower that nearly reached the tallest building in the world—the Burj Khalifa, in Dubai. This year, organizers say they want to build the tower to the moon.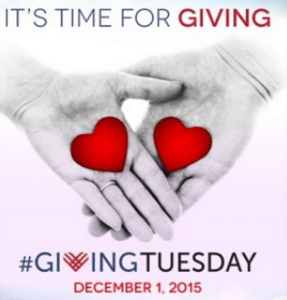 The massive, spinning Giving Tower will be erected in real-time, serving as the centerpiece of a mash-up of cities that forms one futuristic 3-D metropolis. The virtual reality landscape can be viewed from different heights or from a bird's eye view above the city, and navigated by turning your head or explored by fingertip. As the tower grows, new VR experiences will be unlocked. Users can scan the buildings for videos produced by RYOT and be transported to, for example, Nepal days after the devastating earthquake disaster, or find themselves swimming with dolphins and more.
The app will support users with or without Google Cardboard so that anyone can enjoy the full VR experience. Those using Google Cardboard will be able to experience the environment in 3D for a truly immersive experience.
Robert Wolfe, CrowdRise co-founder and CEO, stated:
"What makes the Giving Tower so monumental is that it gives participating organizations an incredibly unique way to fundraise and be a part of a collective movement on #GivingTuesday. And, it's just a mind blowing experience that nonprofits can offer their supporters. We've been pretty relentless about creating an exciting user experience that shows donors their impact and uses awesome technology to build massive awareness for so many causes.  The Giving Tower is entirely reflective of why we launched CrowdRise, to make giving back cool and notable and fun."
CrowdRise co-founder Edward Norton, noted:
"One of the things we've always been committed to at CrowdRise is that philanthropy shouldn't flow from a sense of obligation but, rather, from a feeling that participating in causes and movements enriches and expands your own life. People are more apt to engage when there's an element of fun and a chance to feel proud of their actions.  So we're always trying to inject that spirit into our campaigns and I think the Giving Tower is a great example of that."
#GivingTuesday has established itself as a day on the scale of Black Friday and Cyber Monday—but for giving back to causes, charities and organizations that are doing good for people around the world.  Last year, CrowdRise's partnership with #GivingTuesday earned more than 350 million media impressions, with coverage on "Today," MSNBC, "NBC Nightly News," USA Today, Huffington Post, among others.
Have a crowdfunding offering you'd like to share? Submit an offering for consideration using our Submit a Tip form and we may share it on our site!