Following the success of their Indiegogo campaign, creators of the cuddle + kind dolls, Jennifer and Derek Woodgate, sat down with the platform to discuss their crowdfunding success.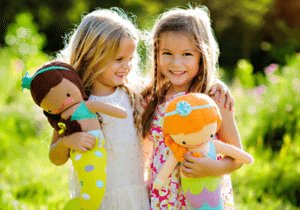 According to global crowdfunding platform, Woodgates' goal is to feed 1 million meals each year to children in need, providing the key nutrition necessary for children's brains to develop fully, help fight disease and reach their full potential. The purchase of each of their handmade dolls helps feed 10 children worldwide. Each doll is:
Hand-knit with premium natural cotton
Stylish and lovable
Safe and meets or exceeds U.S. and Canadian safety standards
Non-toxic
Handmade
While explaining the inspiration of the project, the Woodgates shared:
"After having our second child, my wife Jennifer and I watched a documentary on childhood hunger that really affected us. As new parents, we were saddened that in today's world there are children who struggle with hunger every day.  We could not bear the idea that babies were dying from starvation and children all over the world were going to bed with empty bellies. It was that day that we decided we wanted to do something about it; we wanted to act.

"We decided to create a business that would give back and help fight childhood hunger. We were inspired to create these cuddly hand-knit dolls by watching our children play. We realized it would be powerful if we could develop dolls that a child could love and have those very dolls help feed children in need. Our goal is to be able to donate one million meals annually to children in need."
The Woodgates also noted how they prepared to launch the campaign:
"We asked for help and reached out to our extended family and friends – basically everyone we knew. We explained our mission to help feed children in need and the idea behind cuddle+kind – adorable, natural cotton, fair trade dolls, hand-knit by artisans in Peru where every doll provides 10 meals to children. We explained how crowdfunding works and asked them for their help and feedback. From these conversations, we learned how important it was to create an easy to understand message, then present it in our video and consistently throughout our own website and social media.

"The four weeks leading up to a launch are very important to having a successful campaign. We put in a lot of work to ensure that the first week of our campaign received lots of traffic and awareness. We sent countless emails to PR and media relations partners encouraging them to help share our story. The success of a campaign really is determined by the amount of effort you put in leading up to the launch."
They also revealed what they would do differently with the project:
"We would definitely give ourselves more time before the launch. I really think we needed another month to work with partners and traditional media. We really underestimated how much time it would take to share our story with media partners. Traditional media is a great tool to have, but their lead time is longer than you would expect. We really rushed the final 2 weeks, and had we had 3-4 more weeks to prepare, I think we could have been even more successful."
The creators also gave some advice:
"Make sure you understand that you have to create the awareness first, then your campaign can begin to gain some natural momentum. Social media is a great tool to have. Be sure to create content that is shareable on social media and ask everyone you know to help spread the word about your story and your campaign."
In regards to the future of cuddle + kind, the Woodgates added:
"We hope to continue growing cuddle+kind so that we can reach our goal of providing one million meals to children in need within year one. We are currently working on launching our online store and hope to begin selling our dolls there very soon. We are currently working on designing new doll characters and hope to add them to our collection with the next year."
Since the campaign launched in September 2015, cuddle + kind smashed through its original goal of $25,000, raising more than $424,000.
Have a crowdfunding offering you'd like to share? Submit an offering for consideration using our Submit a Tip form and we may share it on our site!