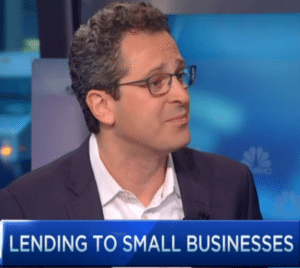 Noah Breslow, CEO of OnDeck (NYSE:ONDK), walked over to the studios of CNBC to talk about their recent partnership with JP Morgan and the future of credit.  Breslow started by stating the obvious; driving to a branch and then waiting multiple weeks for a loan just does not make sense anymore in a world where the internet connects everyone 24/7. OnDeck is a platform that focuses on small business lending, a sector that many banks have abandoned as it simply does not make them any money. Banks are set up to "make that million dollar loan, not that fifty thousand dollar loan".
Andrew Ross Sorkin stated he thought OnDeck wanted to put the banks out of business (hint: it is still quite early in the game). Sorkin correctly points out that banks have endured excessive regulations that have forced their hand.  Breslow agrees while stating it is a sector of the market that was always underserved. Asked if OnDeck will push into other credit verticals, Breslow dodges the question. But, he explained, that marketplace lending platforms will be moving into other asset classes and the JPM partnership is indicative of the future. Will banks be: disrupted, partner with or acquire innovative financial firms? All of the above states Breslow.
Watch the video below.