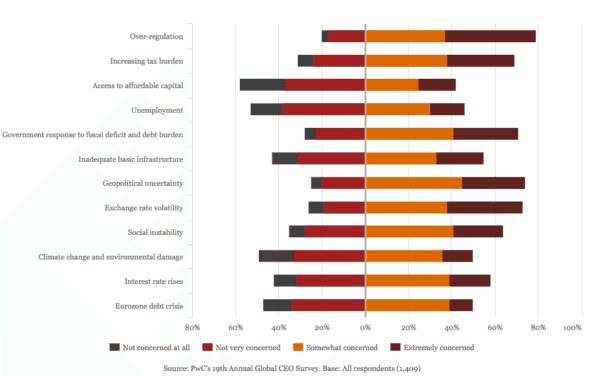 PwC has just revealed their annual survey of global CEOs at the World Forum in Davos.  This is the 19th annual survey published by the global consulting firm. This year PwC tallied the thoughts and impressions of 1,409 respondents. There are loads of interesting data points. The interactive results can be sliced by; Growth, Greater Expectations, Transformation and Measuring Success. From there you can drill down into geographies and industries. But the very first bar graph on the home page for the survey poses the question:
How concerned are CEOs about the following potential economic, policy, social and environmental threats to their organisation's growth prospects?
At the top of the list? Over-regulation.
Interesting and perhaps reflective of the knee-jerk reaction many politicians embraced following the global rout known as the Great Recession.
You may view all of the PwC results here.