Earlier month, video game developer Harmonix, launched a campaign on crowdfunding portal Fig to raise $1.5 million so that it can bring Rock Band 4 to PC. The studio is behind various popular games such as Rock Band, Dance Central, and Kickstarter project Amplitude.
The company previously announced:
"This past October, we released Rock Band 4 for the consoles—the first new Rock Band release in 5 years. This was a massive undertaking for us as an indie studio, but we somehow pulled it off. We're thrilled at the reception to the game so far, but we're not done yet—the Rock Band 4 team is still hard at work, and they'll be spending all of 2016 expanding and updating the game!"
Harmonix also revealed that its team has been planning, scheduling, scoping and preparing the game's PC version since the day they launched it on console back in October. The funds from the campaign will only be used to develop for the PC.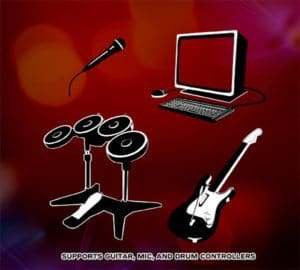 The Harmonix team explained that they need an estimated $2 million will be the total amount needed for development and testing. The company noted that once the project hits $1.5 million, it will cover the rest of the funding.  If the campaign is successful, Rock Band 4 will be available for PC as early as this fall.
Unfortunately, the project hasn't been as successful as Harmonix hoped it would be. The Fig initiative has only secured nearly $550,000 from 1,400 backers. In an effort to score some more funds, the company is now offering a new music tier. The "Collector" package will have 2,000+ songs for a player to pick from. Those who want the package will receive it for $2,500.
The Harmonix team recently revealed:
"Some comments we've heard pretty regularly during our Fig campaign are, 'Does my console DLC carry over to the PC version of the game?' and 'I've invested in DLC on another platform, I don't want to start over!' Unfortunately, our DLC entitlements are on a per-platform basis, but we are listening, and today we're announcing a new Backer Tier.

"Starting now, available only to Fig backers, is the chance to purchase the entire Rock Band DLC library for use with Rock Band 4 for PC. That's right, this Backer Tier includes every single song still available in the Rock Band store when Rock Band 4 for PC launches, starting from the beginning of time and ending on our launch date, in the fall of this year.  The exact song count may vary, but we should have over 2,000 songs available, all of them included in our 'Collector' tier for $2,500. Run, don't walk, to our Backer Tier section and check it out."
The "Collector" package will include:
Complete DLC Library for Rock Band 4 for PC
Official in-game credit
Rock Band 4 t-shirt
Exclusive developer chat
Full PC game, with early access and 30 extra songs
Limited Edition Rock Band swag pack
A City Sleeps – the full game and soundtrack
Best of Indies playable track
Access to comments and discounted add-ons
The campaign has until next Tuesday to achieve its initial goal.
Have a crowdfunding offering you'd like to share? Submit an offering for consideration using our Submit a Tip form and we may share it on our site!