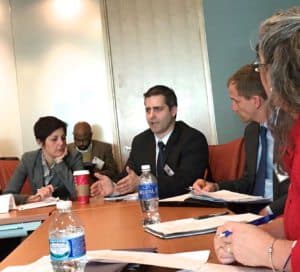 Crowdfund Insider Senior Contributor Anthony Zeoli has received a nice recognition from his hometown. Zeoli, a partner at Freeborn & Peters law firm, was recently acknowledged as the Innovator of the Year Award from the Small Business Advocacy Council (SBAC) of Chicago.  Zeoli, as many people know, was the author of the Illinois intrastate crowdfunding exemption that was passed into law in July of 2015.
Cynthia A. Bergmann, Chair of Freeborn's Executive Committee, commented on the award;
"Tony's leadership in the crowdfunding industry is a great inspiration and a great asset to our firm and to the clients we serve."
Zeoli has written extensively on intrastate crowdfunding and other areas of alternative finance. He is perhaps the leading legal authority for intrastate crowdfunding laws.  Authoring the Illinois investment crowdfunding bill was a labor of passion. Receiving this recognition from the SBAC is a well-deserved honor. Congratulations.