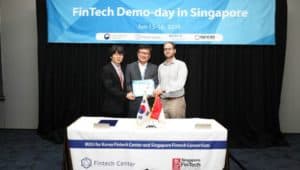 The Singapore Fintech Consortium and the Fintech Center of Korea, have signed a memorandum of understanding (MOU) to work more closely in support of emerging technology in the financial sector. The Singapore group posted a brief statement on the arrangement;
We are pleased to sign an MOU with FinTech Center of Korea under which the two institutions will provide proper aid to fintech companies from the partner country.
The formal signing took place at the Echelon Asia Summit this week in Singapore.
Speaking to the Business Times, Gerben Visser, co-founder and managing partner of the Singapore Fintech Consortium, stated;
"It's very encouraging to see cohesion between the various players in the South Korean fintech ecosystem, comprising the government, regulators, entrepreneurs and the private sector."
Sopnendu Mohanty, Chief FinTech Officer of MAS, and Hak-kyum Kim, Standing Commissioner of the Financial Services Commission of Korea also participated in the signing ceremony.
Singapore has recently updated its investment crowdfunding rules and appears very committed to supporting Fintech innovation. Korea is a bit of a laggard in Asia but an arrangement with Singapore should be a helpful catalyst.
A recent report in TechinAsia quoted Neal Cross, DBS CIO , stating Asia is the "waking giant" in Fintech investment. Fintech investment in Asia quadrupled in 2015 to about $4.5 billion.