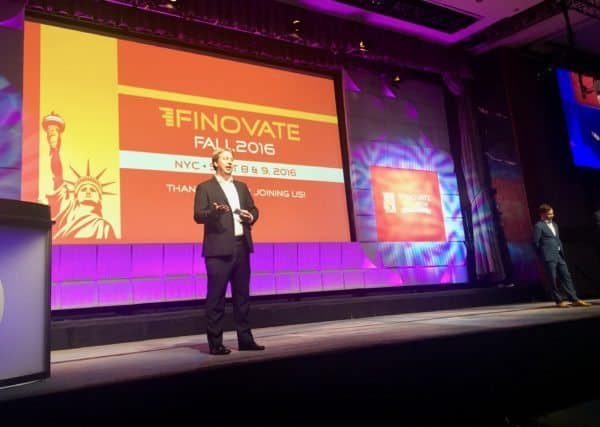 FinovateFall celebrated its 10th anniversary this last week with a two-day show on September 8-9, 2016 in New York City. The show featured demos from 72 companies presenting a diverse range of Fintech startups. In total, Finovate's 30 events over 10 years have seen more than 16,000 attendees, 700 companies and nearly 2,000 live demos – a pretty impressive number. Today, the shows have expanded from New York to events taking place in San Francisco, London, and now Hong Kong.
FinovateFall is a unique demo-based conference for innovative startups as well as established companies in banking and financial services industries. At the most recent Manhattan event, some of the companies sought the opportunity to leverage their technology within the financial services industry and were not really early stage startups. This is probably indicative of the rapid growth of interest and affiliated interest for tangential companies in taking advantage of the Fintech sector.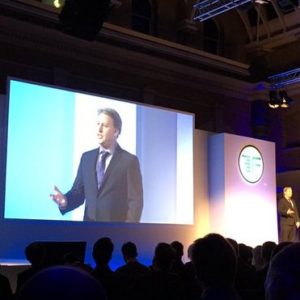 "When thinking back on The Finovate Group's greatest accomplishments during our tenure, I would have to say the success stories that have come out of our Finovate events are what stand out the most," said Greg Palmer, VP of The Finovate Group. "There is no greater pride for the Finovate team than hearing about customer and investor acquisitions, strategic partnerships and other successes that have generated as a result of our presenters demoing at Finovate."
While there were many interesting fintech companies at this year's show, some of the presenters I was able to catch include:
Bankjoy: Bankjoy demoed its new API that allows smaller financial institutional clients, such as credit unions and community banks, to provide their customers with mobile and online banking solutions. Their demo featured interaction with Amazon's Alexa to ask her about budgeting, send payments to friends, and to freeze one's debit card.
Moven: Fitbit for your wallet. Moven aggregates information from your bank account to give you guidance and recommendations to achieve financial wellness.
Urban FT: Described as a "lifestyle finance app", Urban FT is a comprehensive digital banking platform that does everything from aggregating one's multiple bank accounts to allow groups to coordinate the buying of deals (such as Groupons).
Autogravity: Allows consumers to select a car to purchase and find the best financing options prior to or concurrent with their visit to the dealership. The startup in led by industry veterans and venture backed by Daimler.
Experian: The fight against fraud was also a hot topic. Experian demoed its Fraud and Identity Solutions product CrossCore, which aims to catch fraud faster, improve compliance, and enhance the customer experience from a single access point.
Identitii: An automated anti-money laundering (AML) solution on blockchain, which thereby allows more information to be transferred regarding the transaction at issue.
Trulioo: An automated AML compliance solution that includes international identity verification.
There were plenty more and I was impressed with the packed attendance of the event. After ten year, Finovate has a well-established process that works well.  Now the question is what will Finovate become over the next ten years?  Will Fintech become an accepted norm? Will the traditional finance industry stand by or take part? And will innovation accelerate to facilitate continuous change and improvement? We will just have to wait to find out.
[new_royalslider id="32″]
---
---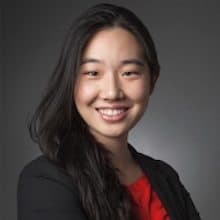 Amy Wan, Esq.CIPP/US, is a Senior Contributor to Crowdfund Insider.  Amy is a Partner at Trowbridge Sidoti LLP (CrowdfundingLawyers.net) where she practices crowdfunding and syndication law. Formerly, she was General Counsel at Patch of Land, a real estate marketplace lending platform. While there, Amy pioneered the industry's first payment dependent note that is secured pursuant to an indenture trustee and designed to be bankruptcy remote, and advised the company on its Series A funding round. In recognition her work at Patch, she was named as a Finalist for the Corporate Counsel of the Year Award 2015 by LA Business Journal. Amy also brings extensive experience in legal innovation and rethinking the delivery of legal services. She is the founder and co-organizer of Legal Hackers LA, and was named one of ten women to watch in legal technology by the American Bar Association Journal in 2014.

Sponsored Links by DQ Promote