OnDeck (NYSE: ONDK) announced on Friday the closing of a $200 million asset-backed revolving debt facility with Credit Suisse. The online lender revealed with the announcement it now may obtain funding under the new credit facility with Credit Suisse by accessing $125 million of committed capacity and an additional $75 million of capacity available at the discretion of the lenders (subject to customary borrowing conditions).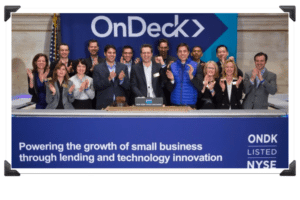 OnDeck stated that under the debt facility, loans would be made to its subsidiary Prime OnDeck Receivable Trust II, LLC, or PORT II as a way to finance PORT II's purchase of small business loans from the lending platform. Each of the small business loans purchased by PORT II serves as collateral under the facility. Each of the Class A Loans under the facility were rated by DBRS, Inc. Jon-Claude Zucconi, Managing Director of Credit Suisse, explained:
"OnDeck has emerged as a leading provider of growth capital to small businesses around the country. The team's innovative vision and commitment to financing is vital to expansion and growth in the small business community."
Howard Katzenberg, Chief Financial Officer of OnDeck, added:
"This transaction marks a continuation of our financing strategy to diversify funding sources, extend debt maturities, and create additional funding capacity to pave the way for future loan growth. We are pleased to have Credit Suisse, a leading global financial institution, support OnDeck in our mission to power the growth of small business through lending technology and innovation."
OnDeck noted it intends to initially use a portion of the debt facility and other available funds to optionally prepay in full without penalty or premium the existing $100 million Prime OnDeck Receivable Trust, LLC facility, which was scheduled to expire in June 2017.  As a result, the online lending platform will benefit from obtaining additional funding capacity through December 2018.
Meanwhile, other online lenders have struggled to establish funding channels for loans and the industry itself has experience some hits in 2016, with the departure of the founding CEO of Lending Club in the spring raising questions about the entire sector of finance. Last month, Dealstruck shut down its operations after an 11th-hour acquisition by a Utah-based bank fell through.