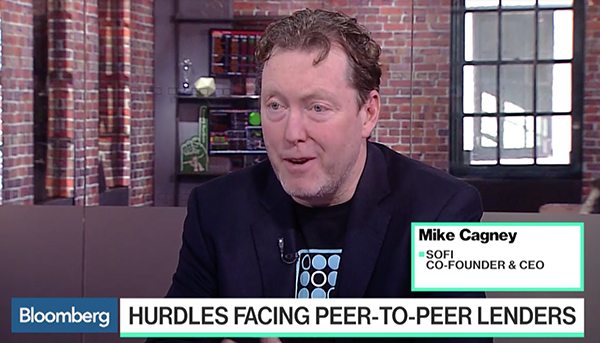 Earlier this week, CEO of online lender SoFi, Mike Cagney, sat down with Caroline Hyde on "Bloomberg Technology" to discuss the platform's plans for 2017 along with revealing details about the lender's competitors. SoFi, which was founded in 2011, currently offers various types of lending options. This includes student loan refinancing, student loan consolidation, mortgages, mortgage refinancing, personal loans, and MBA loans.
During the interview, he discussed upcoming products that SoFi is considering, including a credit card option. He then stated when it comes to competitions, banks seems to be the lead competitor for SoFi:
"We see more competition from the banks and we are going after a rich target in terms of that 25 to 45 customer demographic, so it is very important to the banks in terms of building those relationships and so whether it is student refinancing or personal loans and mortgages, we are seeing much more bank competition today than we saw a year ago."
Cagney also discussed details about SoFi's IPO future plans, which seems to be delayed. See Cagney's full interview below.