On Thursday, BJ's Wholesale Club announced it awarded $100,000 to all classroom projects listed by teachers from Charleston, Summerville, and neighboring communities through DonorsChoose. The funds were from the wholesale company's foundation and reportedly fulfilled 141 projects and benefited 846 students in 65 local schools. Projects funded included:
Supplies to increase digital reading experiences at home and to print students' published writing and portfolio projects

Basic essentials such as new backpacks to help students carry their supplies to and from school each day

Outdoor musical instruments that will allow students to use creative thinking abilities and fine motor skills to produce different types of music during recess and academic arts time
Kirk Saville, senior vice president of corporate communications, BJ's Wholesale Club, stated:
"At BJ's, our commitment to our members extends far beyond the outstanding value and quality found at our Clubs. We're pleased to make this donation to celebrate our entrance to the Summerville community, and we're thrilled to be able to help enrich learning in Lowcountry classrooms through our partnership with DonorsChoose."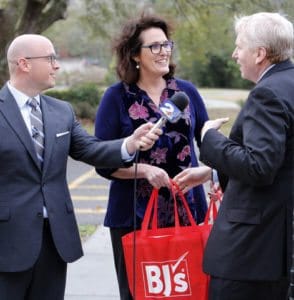 Rianne Roberts, partnership manager at DonorsChoose, noted:
"We are so grateful for the support of BJ's Wholesale Club as they celebrate the opening of their new Summerville location. Their support will bring learning to life for so many students in the communities of Summerville and Charleston."
BJ's added as part of its Adopt-a-School program and collaboration with DonorsChoose; it already has contributed more than $2 million to help equip teachers at over 2,500 public and charter elementary schools with the resources necessary to create innovative lesson plans and meet curriculum objectives.