Global peer-to-peer lending platform TransferWise announced earlier this week it has integrated its money transfer service, TransferWise Bot, with Facebook Messenger. The online lender revealed that customers may now send money and set up rate alerts without having to leave the Facebook Messenger app.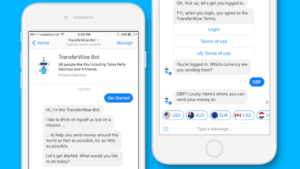 TransferWise reported that users can use the bot to setup transfers for the U.S., UK, Canada, Australia, or Europe and when they send money, the bot will guide them through each step. The bot sends users rate alerts to help them stay updated with the daily currency exchange rates. It will also help the user with any questions that they have.
Speaking about the bot, Scott Miller, TransferWise Head of Global Partnerships stated:
"Our mission at TransferWise is to bring faster, cheaper, and more convenient international money transfers to everyone in the world. Building the TransferWise bot for Messenger is a great step in that direction. It's also a powerful example of how our API can be used to seamlessly integrate TransferWise into almost any messaging, bank, or business payment system."
TranferWise added more than £800 million passes through its system every month and it is used by businesses and commercial banks like N26 and LHV.