PayPal Europe, the Luxembourg National Research Fund (FNR) and the University of Luxembourg signed a Memorandum of Understanding (MoU) this week on the creation of a FNR PEARL chair in the field of FinTech. The Chair has an initial duration of 5 years and will be jointly supported by PayPal and the FNR, and hosted at the Interdisciplinary Centre for Security, Reliability and Trust (SnT) of the University of Luxembourg. Prime Minister Xavier Bettel obtained PayPal's CEO Dan Schulman's personal commitment for the co-financing of the Chair.
"The decision of PayPal to invest in Research in Luxembourg is an important milestone in our collaboration with PayPal and a strong testimonial for the academic excellence of our university," noted Xavier Bettel. "By co-funding the PayPal-FNR Chair on Digital Financial Services, PayPal invests in the future of our University and in the future of our country. With PayPal, we found a strong partner to help create an international center of excellence in Financial Technologies at the University of Luxembourg."
The Luxembourg Government seeks to position Luxembourg as a world leader in the sphere of innovative digital financial services, as well as a prominent hub for financial technology. As part of a national innovation strategy, the Luxembourg Government also aims to accelerate these developments by fostering closer collaboration between the private sector and public research institutes.
"Technology is changing the lives of consumers and businesses across the world. Nowhere is this more true than in financial services, where the fintech revolution is enabling economic growth and new opportunities for millions of people and businesses," commented Norbert Becker, Chairperson of the Supervisory Board of PayPal (Europe) S.à r.l. et Cie, S.C.A.  "PayPal is committed to working with policy makers and regulators to foster greater understanding of how financial technology can be harnessed to drive innovation, economic opportunity and other policy objectives such as consumer protection. Luxembourg has been PayPal's European headquarters for 10 years, and we are delighted to partner with the Fonds National de la Recherche and Université du Luxembourg to create the PayPal-FNR PEARL Chair in Digital Financial Services. This partnership supports the Luxembourg Government's aim of making the country a world leader in innovative financial services."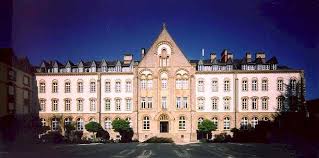 The partnership established between PayPal Europe, the FNR and the University, will encourage the development of a key sector of the Luxembourg economy, in which the financial sector is undergoing an accelerated transformation where novel digital technologies create opportunities for innovative services. FinTech has the potential to enhance transparency and to redefine risks for established institutions, financial services regulators and users alike.
According to the announcement, the goal of this PayPal – FNR PEARL Chair is to demystify digital technology and rethink connections across regulators, industries and users. Because of its expertise in the financial sector and its strong legal framework, Luxembourg has the necessary assets to play a major role in the research and innovation of this leading-edge sector.

The PayPal – FNR PEARL Chair will be hired as a Full Professor in the appropriate faculty and as the leader of a research team at the Interdisciplinary Centre for Security, Reliability and Trust (SnT) at the University of Luxembourg. The recruitment process will be managed by the FNR, according to the well-established PEARL procedures to ensure that an outstanding leader is recruited for this position. PayPal and the University will be associated in the recruitment process.

The MoU was signed by:

Mr. Norbert Becker (Chairperson of the Supervisory Board of PayPal (Europe) S.à r.l. et Cie, S.C.A.)
Mr. Rupert Keeley (Chief Executive Officer, PayPal Europe)
Mrs. Véronique Hoffeld (Chair of the Board, FNR)
Mr. Marc Schiltz (Secretary General, Luxembourg National Research Fund)
Mr. Yves Elsen (Chairman of the Board of Governors, University of Luxembourg)
Mr. Ludwig Neyses (Vice Rector of the University of Luxembourg)
Prime Minister Xavier Bettel witnessed the signature.

Last month PayPal and Singapore Management University (SMU) teamed up to establish a fintech scholarship worth S$180,000 (over $125,000). The investment is focused on building the talent pool in Singapore for the fintech sector.

Sponsored Links by DQ Promote