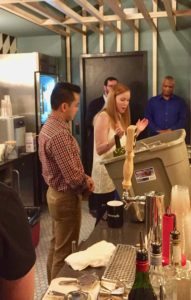 Crowdfunding platform Republic hosted a "mixer" event to help educate companies considering raising capital online. The event included the participation of Georgia Quinn, a Senior Contributor to Crowdfund Insider, who is also the CEO and co-founder of iDisclose – an online tool designed to streamlined the regulatory process for issuing securities.
Quinn told Crowdfund Insider;
"It was great fun to make and drink "wo"manhattans with the most diverse group of entrepreneurs I have seen at a crowdfunding event. I am excited to see what these entrepreneurs can accomplish and how crowdfunding can help them access like minded investors."
Kendrick Nguyen, CEO and co-founder of Republic, added;
"The first Republic-iDisclose mixer represents the type of startup ecosystem we're working to build: supportive, diverse and bursting w excitement and enthusiasm from founders and investors alike."
Expect Republic to organize more events along similar lines. In fact, Republic is prepping to host a series of live and digital events, dedicated to women entrepreneurs and investors. The crowdfunding platform has enlisted several groups to help with the events, including; AngelList, Women 2.0 and ProductHunt (now part of AngelList).
Republic was founded by AngelList alumni who believe angel investors are the catalysts to improve the world. Republic is a community empowering founders and giving everyone the chance to be an angel investor. Their mission is to help innovative companies drive growth, while creating investment opportunities open to everyone.