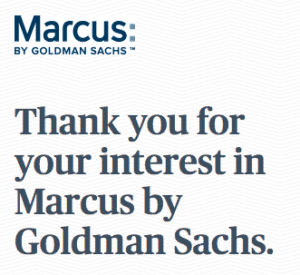 During a "period of recalibration" for Goldman Sachs (NYSE: GS), the diversified financial firm announced Q1 2017 financial results today. Goldman reported net revenues of $8.03 billion and net earnings of $2.26 billion for the first quarter ended March 31st. Diluted earnings per common share were $5.15 compared with $2.68 for the first quarter of 2016 and $5.08 for the fourth quarter of 2016. Q1 earnings did not meet analyst expectations and shares sank, at least initially, as investors ingested the news.
One portion of the Goldman Sachs business that was not broken out in the earnings release was progress at its online lender Marcus.
Launched with great fanfare during 2016, Marcus was not a hot topic of discussion during the call. Guggenheim Partners did initiate a question as to the status of the online lender and specifically for an update on origination growth. The question garnered a minimal response.
Goldman management said they saw the opportunity to enter the world of consumer online finance and that consumers wanted transparency and simplicity. They had an opportunity to build a platform from the ground up.
"Since inception, the entire concept from Marcus is a slow, deliberate organic walk out. It is executing according to the plan. Early days."
Asked if the plan had evolved over the past few quarters. Goldman management stated;
"No. We put a lot into that plan it is the same plan and we are on plan. No material changes. Marcus is in build mode. Operating entirely according to plan."
The Marcus online lending platform is being closely watched by other platforms. Goldman has access to inexpensive capital due to the acquisition of a bank.  Competition within the marketplace / balance sheet market has been heating up as platforms push to add services and update lending models.

Sponsored Links by DQ Promote