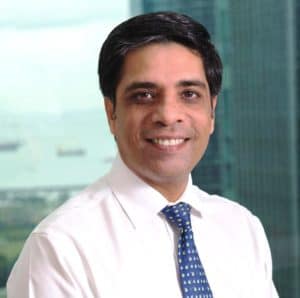 LATTICE80, the world's largest Fintech hub, has appointed former Singapore Managing Director Vinay Agrawal to its board of advisors. Agrawal is described as being key to expanding LATTICE80 to a global audience, bridging Asian Fintech with the rest of the world.  LATTICE80 is wholly owned and run by private investment firm Marvelstone Group. Agrawal has over 27 years of banking experience – not just at ANZ Bank, but at various positions at Standard Chartered Bank across Singapore, Hong Kong, Dubai, Bahrain and India.
"We're extremely pleased to welcome Vinay to our board of advisors. He brings with him a strong network in the startup ecosystem across the region thanks to his connections with funding platforms, venture capital firms, accelerators, angel groups, large-and-medium-size corporations and private equity. As such, we think he's a perfect fit for LATTICE80 and look forward to working with him closely in future," commented Joe Seunghyun Cho, CEO of LATTICE80.
Agrawal said he  was delighted to join LATTICE80's advisory board. H said his skillset brings a critical understanding as to how to build business value
"With this senior leadership experience and perspective, I hope to be in an excellent position to provide strategic insight and advice that will serve LATTICE80 and its various upcoming companies in the Fintech space."
Agrawaj is also on the mentoring panel of Supply Chain Angels (SCA) and is a member of the Business Angel Network of South East Asia (BANSEA). He also serves as a Board Member & Hon. Treasurer for Heartware Network, a Singapore based not-for-profit charity that creates training and volunteer opportunities for youth. Since inception, it has engaged 59,000 youth volunteers.