LendIt, the global lending and Fintech conference, announced on Tuesday it has teamed up with Startupbootcamp FinTech for its PitchIt Europe 2017 competition. According to the event's organizers, this year's competition is set to see hundreds of applicants all looking to compete in the competition's finals and a chance to present on the keynote stage in front of more than 1,000 members and executives from the global fintech industry at LendIt Europe in London on October 9th and 10th.

The organizers also revealed:
"This year's exclusive PitchIt Contest Partner will be Startupbootcamp FinTech, the leading global FinTech accelerator focused on innovation for the financial services industry. The finalists will present to a panel of influential VC judges and mentors, including those from Balderton Capital, Commerz Ventures, Thiel Capital, Index Ventures and Target Global VCs,and other high profile investors in the fintech capital of the world, London."
To apply for the competition, applicants must meet the following:
Must be a fintech company

Two or more full-time co-founders/employees

2-10 full-time employees

Less than three years in business (companies founded before 2014 not eligible)

Raised less than 4 million GBP since launch date

Must have a professional business website

Everyone registering on behalf of a specific company must have an email with that company's domain

Past PitchIt Europe finalists are ineligible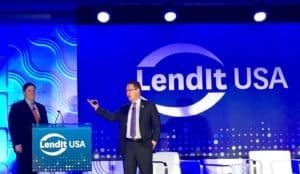 Jason Jones, Co-Founder of LendIt, stated:
"Innovation has never been more important for the Financial Services industry. PitchIt gives startups with fresh, important new ideas a valuable chance to build and grow their firms. Even as the fintech industry matures, we are seeing exciting areas of breakout opportunities, which we look forward to discussing and experiencing at LendIt Europe 2017. We are honored to partner with Startupbootcamp FinTech, a brand synonymous with cultivating young startups poised for growth and fueling  innovation in fintech."
Nektarios Liolios, CEO and Co-Founder, Startupbootcamp FinTech added:
"LendIt's strong track record of running fintech events coupled with connecting startups with leading financial institutions and investors really mirrors the Startupbootcamp FinTech approach. Our goal is to facilitate innovation for the financial services industry through finding the best fintech startups globally. We are very excited to partner with LendIt and look forward to working with the team, partners and sponsors on the PitchIt program to highlight startups from around the world who are set to transform the future of financial services."
Online applications also officially opened to qualifying fintech startups.