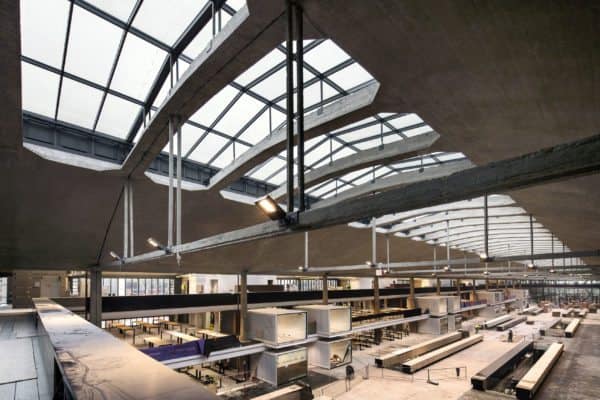 Station F, the biggest startup campus worldwide will open in Paris this month with BNP Paribas joining in the fall of 2017. BNP Paribas, the global Top-10 bank headquartered in France, is transferring its Fintech and InsureTech accelerator there with the help of global Plug & Play
Station F, the Largest Startup Campus in the World
There are nowadays gazillions of accelerators, incubators and startup labs, but no one comes close to Station F. Here is why:
The initiator of the program, Xavier Niel is one of the most prolific entrepreneurs worldwide. He built Iliad, a telecommunications group; School 42, a teacher-and-schedule-free programming school in France and California; Kima Ventures, an early-stage VC firm with portfolio companies such as Transferwise, Docker, Aircall, and Trainline… and Station F.
The sheer size of the campus: 34,000 square meters, 310 meters long (the size of the Eiffel tower!), 1,000 startups, 3,000 startup workstations, and a total capacity to host 9,000 people. The building also houses 8 event spaces and many recreational areas, including a tennis court. More than 250 million euros are invested in its construction.
More than 17 big brand incubators. Next to BNP Paribas, HEC Business School, Facebook, China-based Serrinnov, online retail group Vente-Privé, VC firm Daphni, industrial group Thalès, South-Korea's Naver, and more than a dozen other companies from all sectors will run their innovation lab or startup accelerator from Station F to benefit from the emulation and the synergies that the space offers.
An amazing building. The name Station F comes from the former use of the building as a train hangar. Situated in the South East of Paris, the building was designed in 1927 with such an innovative and elegant concrete structure that it is now listed as a historical monument. It is now being completely renovated by the firm of the renowned architect Jean-Michel Wilmotte. No doubt that the modern beauty of the renovated building, combined with its historical roots, will inspire the creativity of the thousands of innovators who will by work there!
In the words of Roxanne Varza, a former manager of Microsoft Ventures and journalist at TechCrunch, now director of Station F:
"Our goal with Station F is not only to create the largest startup campus in the world but also to create a space that houses an entire startup ecosystem under one roof. It's a truly ambitious international project that puts France and Europe at the forefront of the international startup map."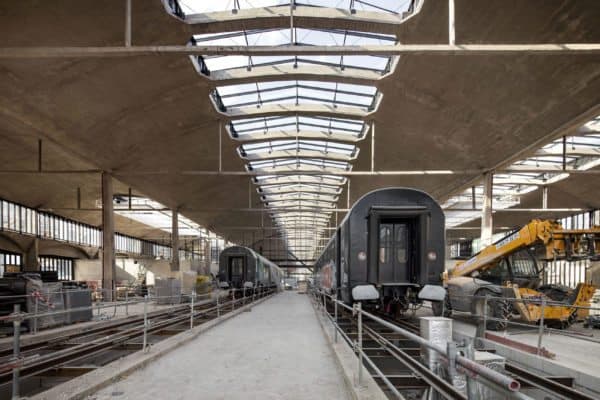 ---
BNP Paribas's Long History of Scouting and Engaging with Startups
BNP Paribas is a global banking and insurance group, headquartered in Paris, France, who ranks as the No. 8 bank in the world by total assets. Like every large bank, BNP Paribas runs many programs that involve partnering with Fintech and InsureTech startups to enhance the innovation capacity of the group and accelerate its digital transformation.
Unlike competitors, however, BNP Paribas has a long practice of the startup scouting and open collaboration methods that are now increasingly common among incumbent banks. As early as 1978, the group founded a prospective tech lab called L'Atelier which became an open Fintech think tank and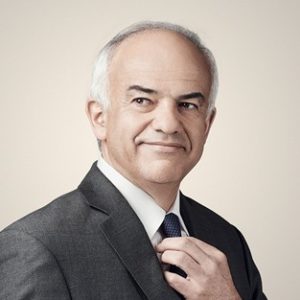 networking forum long before the phrase Fintech was even coined. Since then, the Atelier has transformed into an internal global resource supporting the group's prospective research, business transformation and business acceleration around the world, including in the US and China.
Most recently, BNP Paribas made headlines by acquiring French neo-bank Compte Nickel, one of the few challenger banks ‒ if not the only one ‒ which was:
technologically innovative with kiosk-based online on-boarding and real-time payments,
on track with its customer acquisition target of more than 500,000 clients acquired in 3 years,
and on the path to profitability!
The price of the acquisition was not disclosed, but it was rumored to be above €200 million.
[clickToTweet tweet="[email protected] to Setup a #Fintech Accelerator at Station F: a 1000 Startup Campus in Paris" quote="BNP Paribas to Setup a #Fintech Accelerator at Station F: a 1000 Startup Campus in Paris"]
BNP Paribas now runs a number of local and international startup collaboration and accelerations programs. To be true to its tagline "La banque d'un monde qui change" (the bank of a transforming world), BNP Paribas could not but take part in the Station F project.
"We're delighted that startups on our program will very shortly be installed at Station F," declared BNP Paribas' Deputy Chief Operating Officer Jacques d'Estais.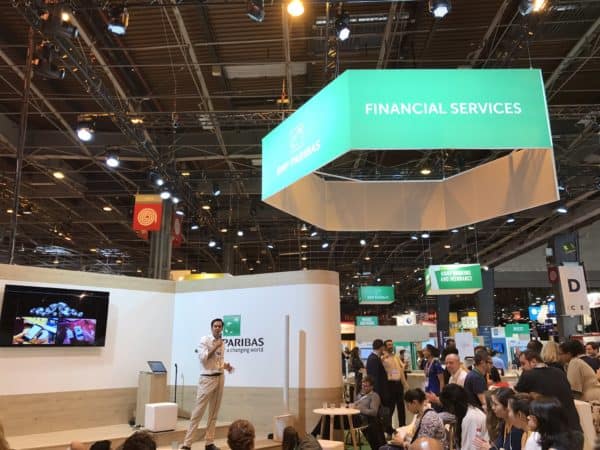 ---
Partnering with Plug and Play to Set up a Fintech and Insurtech Program at Station F
For its Station F program, BNP has chosen to partner with a global partner, Plug and Play, a Silicon Valley-headquartered innovation platform with 22 locations around the world. Plug and Play prides itself with a track record of more than 2,000 backed or accelerated startups, including well-known brands like DropBox and SoundHound, and Fintechs like PayPal and Lending Club. Plug and Play invests in over 100 companies every year and connect startups to corporations.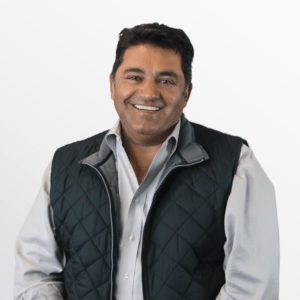 In addition to the regular coaching and fund-raising opportunities provided by the accelerator, the startups selected to participate in the BNP Paribas program will benefit from the collaborative ecosystem offered by Station F.
For Saeed Amidi, founder and CEO of Plug and Play, the program's ambition is clearly European:
"We are incredibly excited to build our European Fintech and Insurtech innovation platform with BNP Paribas in Station F.  I believe it will become the hot spot of all startups and all corporate innovation, not only for Paris and France but for Europe as a whole."
Station F Director Roxanne Varza stated:
"Before entering into this partnership, we looked at a number of Fintech and Insurtech players. We regard the BNP Paribas/Plug and Play pairing as a really outstanding duo and we look forward to the launch of their program at Station F."
A Banking Partner for Resident Startups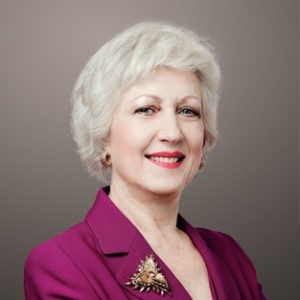 The partnership between BNP Paribas and Station F will extend beyond hosting the accelerator. BNP Paribas will also become a reference bank for the startups and digital workers of Station F. Depending on their needs, these young companies will be able to draw on the wide range of services of the group which covers the whole spectrum from corporate finance and private equity to mobile personal finance.
Marie-Claire Capobianco, Head of BNP Paribas French Retail Banking and BNP Paribas Group Executive Committee member, underlined:
"All the companies at Station F and their employees will have immediate access to a specialized banking partner."
---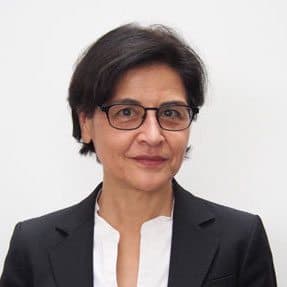 Therese Torris, PhD, is a Senior Contributing Editor to Crowdfund Insider. She is an entrepreneur and consultant in eFinance and eCommerce based in Paris. She has covered crowdfunding and P2P lending since the early days when Zopa was created in the United Kingdom. She was a director of research and consulting at Gartner Group Europe, Senior VP at Forrester Research and Content VP at Twenga. She publishes a French personal finance blog, Le Blog Finance Pratique.

Sponsored Links by DQ Promote