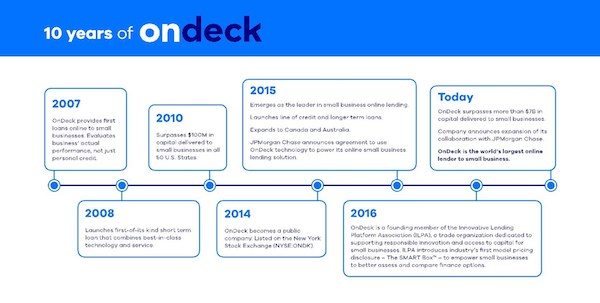 On Friday, online lender for small businesses OnDeck (NYSE: ONDK) celebrated 10 years of lending. The company stated that to date it has provided more than $7 billion in capital to over 70,000 customers in 700 different industries in the U.S., Canada, and Australia. Noah Breslow, CEO of OnDeck, stated:
"OnDeck started lending online to small businesses ten years ago with a customer-first philosophy and a relentless commitment to providing capital online with speed, efficiency and top-quality service to America's small business owners. This is still the hallmark of our business today as we celebrate a decade of innovation on behalf of small business owners, truly the lifeblood of our economy."
OnDeck revealed that it made its first loan in August 2007 and has grown substantially since then. Its platform and OnDeck Score feature have notably increased the flow of capital to Main Street and expanded growth opportunities among small businesses. The lending platform also shared:
"OnDeck has led the way in revolutionizing how fintech companies and banks collaborate in order to harness technology and learnings to drive superior customer experiences for small businesses. Recently, OnDeck and JPMorgan Chase announced a landmark new contract extending their collaboration on Chase's digital small business lending solution, Chase Business Quick Capital, for up to 4 years. The multi-year agreement enables Chase to develop and deliver increased digital functionality as it delivers lending solutions to its small business banking customers."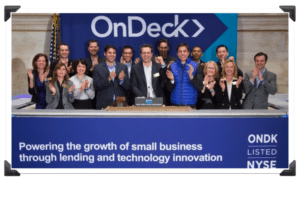 OnDeck's 10-year celebration comes less than a month after the lender released its second quarter 2017 financial results, which reported a significant narrow quarterly loss along with providing an update regard the platform's ongoing $45 million cost rationalization platform.