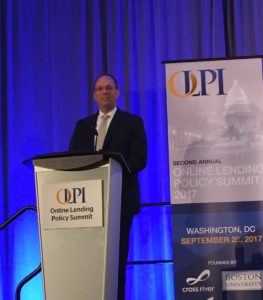 Speaking at the Online Lending Policy Summit in Washington, DC, Acting Comptroller of the Currency Keith Noreika discussed the online lending industry and his perspective on responsible innovation. Noreika told the conference participants;
"I see the growth of online lending and marketplace lenders as the natural evolution of banking itself. Your industry demonstrates a certain entrepreneurial spirit to seize economic opportunity that begins with your new idea. The idea may be leveraging the lending power of groups or using new data to assess creditworthiness. Or, the idea may be a way to make decisions faster or to give consumers more control of their financial lives."
Noreika said that too often regulatory burdens get in the way of economic opportunity, a comment that would resonate well with the entrepreneurial crowd.
Noting that US marketplace lenders have originated about $40 billion in consumer and small business loans in the past ten years, Noreika said that online lending represents a substantial portion of all consumer unsecured credit in the US.  Some prognosticators expect that online lending will top $1 trillion by 2020.
Noreika cautioned that It is uncertain how online lending companies will perform under stress. But he added that is part of a maturing business;
"Success requires adapting to new market conditions and effectively managing evolving risks."
He commented on the fact that "some companies that set out to be "bank killers" a few years ago are discovering the advantages of being part of the banking system."
Commenting on the concept of a regulatory sandbox for Fintechs, Noreika said they are still working on developing their approach but participants will not be promised safe harbor from compliance requirements.
"We must avoid defining banking too narrowly or in a stagnant way that prevents the system from evolving or taking proper and responsible advantage of economic opportunities that result from advances in technology and commerce," said Noreika alluding to the OCC Fintech Charter.
Noreika said that Fintechs should be able to apply for a national charter if they are fully compliant. He said there was interest in creating a special purpose charter for Fintech firms that do not hold deposits.
Noreika closed by saying;
"The market domestically and internationally has plenty of room to grow, and today in Washington there is real energy around reducing unnecessary regulatory burden and promoting economic opportunity. Those are good reasons to be optimistic."
Link to the copy of the speech.

Sponsored Links by DQ Promote