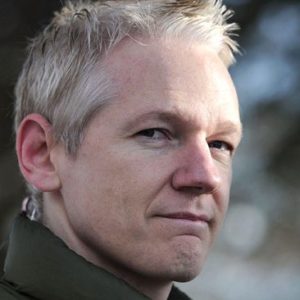 Julian Assange, the founder of Wikileaks who is holed up in the Embassy of Ecuador in London, is thanking the US government for boosting his investment returns. Assange shares in a tweet that the illegal banking blockade targeting Wikileaks compelled him to look elsewhere to hold their money and invest. So where did he go? Bitcoin, of course. And as of this week, Assange says he has experienced a greater than 5000% return. Not too bad.
The price of Bitcoin, while being very volatile, has rocketed to over $5700 per BTC recently. One year ago today, BTC was only $636 and change. Hard to find anything else that delivered the same type of return in the past 365 days.
My deepest thanks to the US government, Senator McCain and Senator Lieberman for pushing Visa, MasterCard, Payal, AmEx, Mooneybookers, et al, into erecting an illegal banking blockade against @WikiLeaks starting in 2010. It caused us to invest in Bitcoin — with > 50000% return. pic.twitter.com/9i8D69yxLC

— Julian Assange 🔹 (@JulianAssange) October 14, 2017
Of course, it will be difficult for Assange to spend his Bitcoin generated wealth as it does not look like he will be out on the streets of London anytime soon. That is unless the Ecuadoran government kicks him out. Assange has been sequestered in the Embassy since 2012 but a recent squabble with the new Ecuadoran President may find him without a diplomatic patron. The United States would be quite interested in seeing him out at large and in public as they believe his publication of classified information is an illegal act that damaged global relationships and harmed the security of the US. I wonder if Assange has invested any of his crypto money in any Initial Coin Offerings?