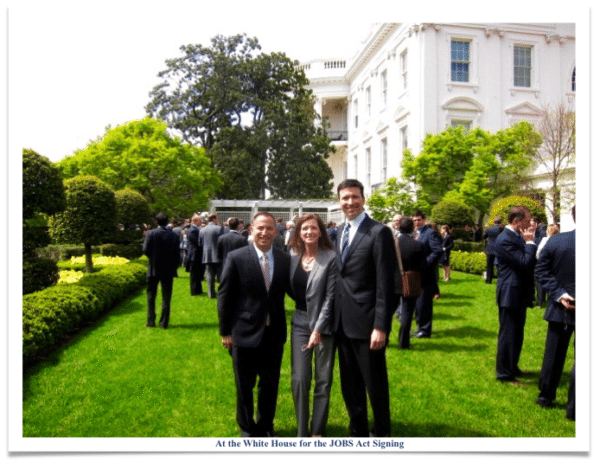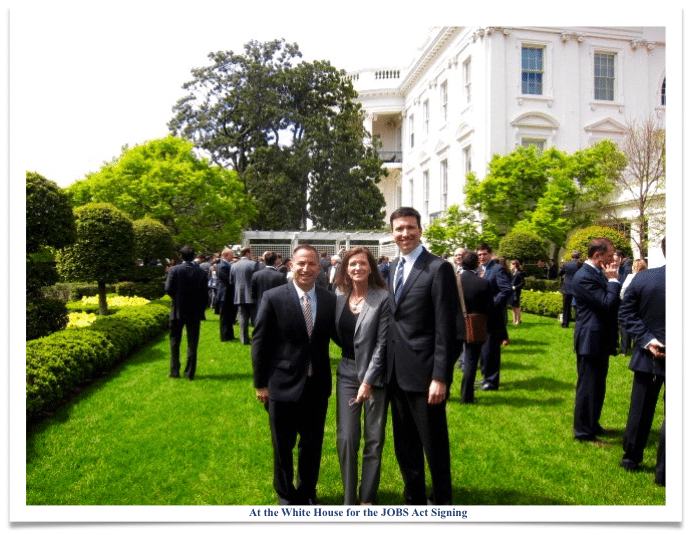 Karen Kerrigan, the CEO and President of the Small Business Entrepreneurship Council (SBE Council) has received a "Crowdfundie Award" at the 6th Annual Global Crowdfunding Convention (GCC) held in Las Vegas this week. Kerrigan attended GCC speaking on the topic of taking equity crowdfunding to the next level.
Kerrigan has been a consistent advocate for small business and investment crowdfunding in general. An early supporter of the JOBS Act, Kerrigan was present when President Obama signed the bill into law in recognition of her work to enact crowdfunding rules. Beyond crowdfunding, Kerrigan, and the SBE Council in general, are important advocates for rational policies that support entrepreneurship and SMEs.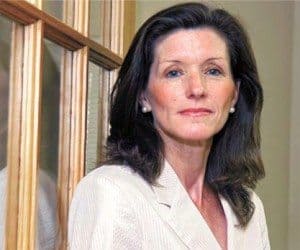 "The crowdfunding community is very optimistic, and they are passionate about educating people and entrepreneurs about the power and opportunity of raising capital with investors who want to help startups and small businesses succeed. It was an honor to present at this conference and to be recognized among peers I highly respect. I especially thank Ruth Hedges for organizing this annual event and for her strong advocacy and support of crowdfunding," commented Kerrigan.
During GCC 2017, Kerrigan addressed some key points about the state of regulated crowdfunding:
Regulated crowdfunding (Reg CF) is very young. Even so, and given the regulatory constraints, there is good news from the early results. We are learning a great deal from early adopters and data from those campaigns can be shared with the entrepreneurial community to accelerate adoption. According to Crowdfund Capital Advisors, over 72,000 backers have invested in Title III crowdfunding campaigns. More than $72 million has been committed, with $54 million going to companies that closed or hit their funding targets.  564 campaigns have launched, 380 have closed, and 215 (or 57%) hit their funding target. The average company is raising $300k and the media raise is $152K.
Changes need to be made to make regulated crowdfunding more practical, appealing, and cost-effective for startups and small businesses, including:

Streamlining the regulatory and registration process – Form C and other requirements – to help reduce complexity and cost.
Allowing issuers to "Test the Waters."
Increasing the amount that can be raised from $1 million to $5 million (or higher).
Allowing for single purpose vehicles, which may mitigate issuers concerns about a potentially large number of shareholders.
Allow for lead investors or syndicates to help "guide" investors.
Providing legal clarity to platforms regarding potential liability issues involving issuers.
Making adjustments to how much non-accredited and accredited investors can invest on Title III campaigns.

Education is vital, in terms of preparing small businesses for crowdfunding and exposing them to this powerful way to raise capital. Education and outreach is also critical to non-accredited investors about the opportunity that exists to invest in small businesses and promising startups.
"Policy winds favor the enactment of needed reforms to make crowdfunding more viable and successful, and stronger economic growth will encourage more people to start businesses and invest," stated Kerrigan.
[clickToTweet tweet="Changes need to be made to make #RegCF more practical, appealing & cost-effective for startups & small businesses" quote="Changes need to be made to make #RegCF more practical, appealing & cost-effective for startups & small businesses"]