OurCrowd, the leading global equity crowdfunding platform, announced on Thursday it has teamed up with global sports tech accelerator that is backed by the Adi Dassler Family Office (ADIFO), leAD Sports, to launch a new sports tech fund, 13thfund ADvantage. According to the funding portal, the new $50 million fund will be solely focused on sports tech and will initially focus on 15 early-stage sports tech ventures primed for growth, including companies providing next-gen fan engagement and experience; solutions for connected athletes and communities; and startups in the derivative sports space, including eSports, new and fantasy sports.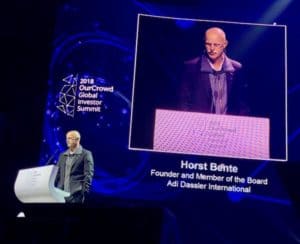 The fund will reportedly be co-managed by two active and veteran venture capitalists with a domain-specific sports tech expertise: OurCrowd's Jeremy Pressman and leAD Sports' Christoph Sonnen. Jeremy Pressman, ADvantage Partner and Israel's only active venture capitalist who is also a professional athlete, has been focused on sourcing and conducting due diligence on sports tech deals for over five years. Pressman stated:
"Sports tech is a new and emerging sector with some 4000 companies worldwide and over $5 billion invested over the past five years. ADvantage will build on the momentum of OurCrowd's successful investment in Replay Technologies, which was acquired by Intel for $180 million. We are excited to continue bringing emerging technologies to our over 25,000 investors and paving the way for the next generation of sports tech startups."
ADvantage Partner Christoph Sonnen then added:
"'I believe that defining the future of sports tech requires new approaches, macro level overview on future trends and a solid eco-system of innovative partners. This latest
announcement of a $50mil investment fund together with OurCrowd, one of the world's most prominent investment platforms, focused on ventures disrupting the Sports industry, bring us a step closer in becoming a global powerhouse for Sports entrepreneurship."
Horst Bente, Founder and Member of the Board at Adi Dassler International presented the fund during the OurCrowd Summit 2018 this week.