Purplebricks Group plc (AIM: PURP), a "hybrid estate agent," has received a £125 million strategic investment from German conglomerate Axel Springer via its subsidiary of Fünfundachtzigste Vermögensverwaltungsgesellschaft mbH. Following the investment, Axel Springer will own approximately 11.5% of Purplebricks. Concurrently, Purplebricks will appoint Dr Andreas Wiele, an executive board member of Axel Springer and President Classifieds Media, as a non-executive director on Purplebricks' board of directors.
The additional capital will allow Purplebricks to accelerate its plan to launch in the US and other markets. Approximately £50 million of the proceeds will be directly targeted to the US rollout.
Purplebricks is currently selling more houses than any other real estate brokerage in the UK and rapidly growing in Australia. PurpleBricks launched in the UK in 2014 seeking to disrupt the existing estate / realtor market with its tech forward approach and cost saving platform. Typically, an individuals primary residence is the persons single largest asset and Purplebricks seeks to provide the best service available.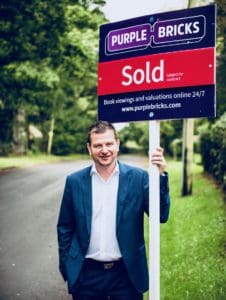 Michael Bruce, Chief Executive of Purplebricks, said it was fitting on their 4th year anniversary to push boundaries and to continue to challenge established thinking;
"The strategic partnership with Axel Springer is ground breaking and will propel Purplebricks further towards our strategic goals and global ambition. We now have the platform, funding and, through Axel Springer's experience, as well as the appointment of four new leading non- executive directors, the expertise to achieve our vision. Purplebricks continues to be a pioneer and a consumer champion, providing customers with a better and more cost effective way to buy, sell and let property through the combination of technology and first class people. Our feedback, which has just broken through 40,000 UK reviews on Trustpilot, with an average score of 9.6 out of 10 is further evidence that consumers across countries are embracing change and recognise the benefits we deliver. The funds raised will be used to put even more clear blue water between us and our competitors in terms of customer service and bring the Purplebricks offering to new territories. We are confident in the future, welcome the endorsement of Axel Springer and look forward to continuing to deliver value for all of our shareholders."
To date, PurpleBricks has already expanded into four Designated Market Areas in the US in California and the company is preparing to open up in New York.

Sponsored Links by DQ Promote