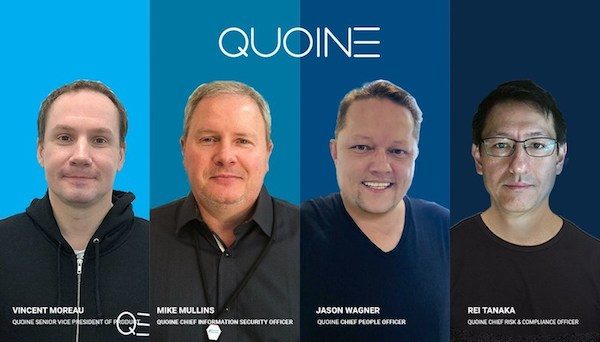 Global blockchain fintech firm QUOINE announced on Thursday four new appointments to its leadership team. The company reported the following has been appointed:
Jason Wagner: Chief People Officer- Brings more than 25 years experience and spent the last ten years in 

Singapore

 in financial services and consumer-related executive search. Prior to this, he was with the Fortress Investment Group, McKinsey & Company, GE Capital, and Goldman Sachs. 

Mike Mullins: 

Chief Information Security Officer – Brings 30 years of experience in global network security, operations, management, security engineering and implementation working for both the US Federal Government, including the Department of Homeland Security, Department of Defense, Department of Energy and US Secret Service

Vincent Moreau: 

Senior Vice President of Product –  Has spent 15 years in investment banking, with positions in 

Paris

, 

New York

 and, for the last 10 years, 

Tokyo

, where he has worked for Bank of America Merrill Lynch as their Head of Market Making Technology, 

Asia Pacific

 and Global Head of Quantitative Automated Trading Engine Development.
Rei Tanaka: Chief Risk & Compliance Officer – Has more than 25 years experience in the financial services industry. Rei started off his career as a banker before becoming a financial services consultant. Rei's global experience includes 

Japan

, 

Singapore

, 

Hong Kong

, 

Thailand

, mainland 

China

, UK, 

Germany

 and the U.S.
QUOINE then revealed that it intends to further enhance its security and compliance management systems by leveraging the global expertise of CCO Rei Tanaka and CISO Mike Mullins. The company also reported:
"As the company grows rapidly on a global scale, the joining of CPO Jason Wagner will strengthen the company culture and human resources development at QUOINE. Vincent Moreau will play a key role in the launch of LIQUID, QUOINE's developing platform to address the liquidity problem in the crypto space."
QUOINE CEO, Mike Kayamori, stated:
"When Mario Gomez Lozada and I founded QUOINE in 2014, we had a vision to grow this company into a world-leading provider of fintech services grounded in blockchain technology. Our journey has been incredible and although we still have much to achieve, we now have more than 190 staff working tirelessly in four countries to bring our customers the best possible products and services. Our achievements to date make me so proud. But the truth is, we are only just getting started. These four new hires will help us solidify our position as a global force in this sector."
QUOINE added the new hires will play an integral role as the company prepares to launch several new products this year, including LIQUID, an all-inclusive cryptocurrency platform.