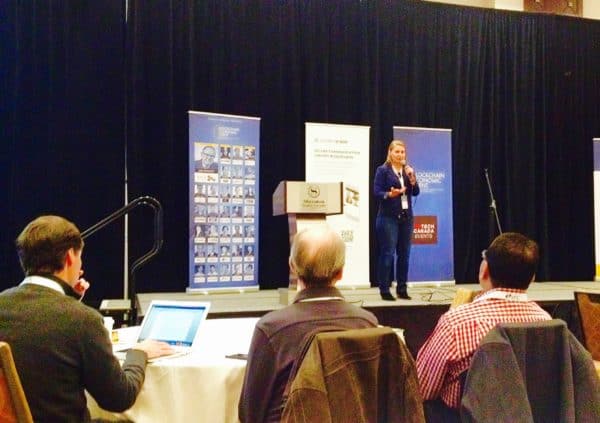 Before Alena Vranova became one of Bitcoin's early entrepreneurs in 2013, this cofounder of Satoshi Labs and Trezor Hardware Wallets spent ten years innovating in the insurance industry in her native Czech Republic.
There, she learned her first lesson in industry disruption:

"Don't listen to people saying 'No, it won't happen.'"
Vranova presented on industry disruption Thursday at the Blockchain Economic Event in Toronto.
One of the first proposals she made to her insurance bosses back in the day was that they should form an alliance with all the small insurance companies in the country in order to compete with the country's number one firm. "We'll join all the competitors into one brand in a franchise network," she proposed.
"People said we couldn't do it; then we made the second largest insurance company in Czech," said Vranova.
"Sometimes (people) just cannot really fathom that change," she said.
Next lesson in industry disruption? DO listen to people when they call you on weaknesses. In other words, said Vranova, "Keep it real." Entrepreneurs must understand the business they are getting into and not just throw hot buzzwords around.
Tech companies in particular must 'keep it real':
"I read a lot of white papers, and a lot of them are just fairytales."
One company proposed a system for verifying passenger IDs in flying taxis, but "When I use Uber," said Vranova, "nobody's asking me for ID."
A truly disruptive company, like Trezor, said Vranova, solves real world problems.
"There was a real problem when Bitcoin acted merely as private money. We have had third party trust problems."
In a 2016 interview posted on YouTube, Vranova noted how, as one of the first miners to create a mining pool in Bitcoin, her fellow partner at Satoshi Labs, Slush, lost a lot of Bitcoin to hackers and third parties.
[clickToTweet tweet=""I read a lot of white papers, and a lot of them are just fairytales." #ICO" quote=""I read a lot of white papers, and a lot of them are just fairytales." #ICO"]
Offline storage at that time was a difficult and technical process, and Satoshi labs noticed for months that no-one was creating a Bitcoin storage solution for everyday, non-technical people.
"If you want to disrupt the market, find the real problem," said Vranova. In the case of safe storage of cryptocurrencies, there was not yet any industry to disrupt. "Maybe you don't need to disrupt the market, "said Vranova. "Maybe you just need to create a new one."
In tech, said Vranova, it is also very important to stay focussed, and, "try to be the best in that particular niche." Trezor succeeds in this in part because their code is open-sourced, says Vranova.
"By the time an update is done on Trezor, the code has already been looked through."
You also have a much better chance of disruption if your solution, said Vranova, "…is an order of magnitude improvement."
Another one of her innovations in insurance was the creation of a mobile office suite for travelling brokers and adjusters, a system that united claims, invoices and communicating all in "one huge network" that incorporated incentives like free calling.
"We gave people such an improvement that they paid us 10% of their revenues. The improvement of their life was by an order of magnitude, not marginal."
Disruptive products and companies must also be resilient. The Trezor hardware wallet, for example, is multifunctional. In addition to storing cryptocurrencies securely offline, Trezor wallets can store passwords, encrypt documents and lock up servers and databases.
"Try to build so you're not dependent on a single client or market," she said.
And while companies should stick to their values, they must also also be willing to change and accept, for example, that sometimes Bitcoin is crashing. "Use those times to expand your strategy."
Perhaps most interestingly of all, Alena Vranova stated that she feels start ups should hold out on accepting venture capital for as long as possible. "When you are doing something innovative, you are unbalanced if you have to satisfy investors." Vranova coordinated crowdfunding when the Trezor was being prototyped.
At Trezor, Vranova said, "We decided we wouldnt even speak to a VC," until the company had a working product. "That just gives you much more operational space."
And although she's, "Not so opposed to ICO's as Tone (Vays)…a lot of those companies are not thinking about the user experience," she said, a design flaw likely to bring down a lot of so-called "utility tokens."
[clickToTweet tweet="'There is this token fever now, but converting from fiat to #Bitcoin to your token to your service is a terrible user experience.' #ICO" quote="'There is this token fever now, but converting from fiat to #Bitcoin to your token to your service is a terrible user experience.' #ICO"]