On Wednesday blockchain firm ConsenSys announced its expansion into Ireland with the Dublin Innovation Studio. According to ConsenSys, the Dublin-based Innovation Studio will be a multi-functional facility including a development lab, where engineers will build and deliver Ethereum-based blockchain platforms and products stemming from the company's consulting arm, ConsenSys Solutions, as well as a centre for client collaboration. The Dublin Innovation Studio will also ideate and incubate decentralized applications and 'spoke' companies as part of ConsenSys' venture studio, ConsenSys Labs.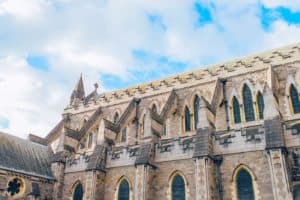 ConsenSys confirmed that Dublin will be its' third hub in Europe and fourth in EMEA, adding to ConsenSys' network in London, Dubai, and Paris. While sharing more details about the hub, ConsenSys' Lory Kehoe stated:
"ConsenSys establishing a presence in Dublin is a big deal for Ireland. It shows there is a vibrant cross-industry and cross-sector blockchain ecosystem in the country, which ConsenSys will contribute to and build upon. More specifically, ConsenSys is looking to attract some of the great tech talent that already exists in Ireland, thanks to the many global tech companies that are based here."
Jeremy Millar, Chief of Staff at ConsenSys, helped establish ConsenSys' first European office in London, also commented:
"Dublin is a renowned global technology hub that is home to the international operations of the world's largest technology companies. We can feel the excitement in the developer community for ConsenSys' expansion to Dublin, where the tech community is embracing decentralisation to solve intractable challenges such as identity protection, data sovereignty and sharing economics. We are consistently impressed by the depth of Ethereum knowledge and developer skills in the region."
ConsenSys added that the Dublin Innovation Studio will officially open in early June, when founder and Ethereum Co-Founder, Joseph Lubin, visits the Irish capital for MoneyConf.