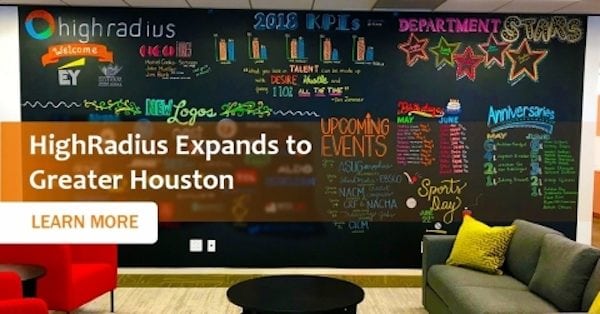 HighRadius, a fintech enterprise Software-as-a-Service (SaaS) company specializing in integrated receivables, announced on Tuesday it has expanded into Katy, Texas, which is near Houston, Texas. This news comes just a few months after the company secured a strategic investment from Citi Ventures and PNC. 
As previously reported, High Radius was founded in 2006. The company stated its HighRadius Integrated Receivables platform optimizes cash flow through automation of receivables and payments processes across credit, collections, cash application, deductions, electronic billing and payment processing.
"Powered by the Rivana Artificial Intelligence Engine and Freda Virtual Assistant for Credit-to-Cash, HighRadius Integrated Receivables enables teams to leverage machine learning for accurate decision making and future outcomes. The radiusOne B2B payment network allows suppliers to digitally connect with buyers, closing the loop from supplier receivable processes to buyer payable processes."
Speaking about the company's expansion, Johnny Vincent, CFO at HighRadius, stated:
"For the last two years, we've been honored to make the Houston Chronicle's Top Workplaces and with this move, we look forward to creating an even better place to work. We are excited to grow our team and expand our presence to one of the fastest growing areas of Greater Houston."
HighRadius currently has operations in three continents with corporate headquarters located in the Houston metroplex. More than 150 local employees will move to the new office space in Katy.