trade.io, a next-generation financial institution based on blockchain technology, announced on Friday it will officially launch its self-titled crypto exchange on July 17th. The company reported that this announcement comes after months of anticipation across the crypto world where they have eagerly prepared for the launch of trade.io's live Exchange, and later its Liquidity Pool.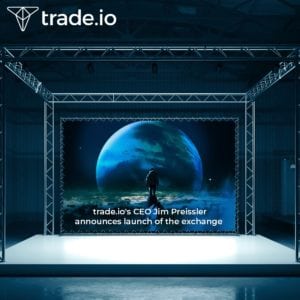 Founded in 2017, trade.io stated it provides efficient, fair, and safe blockchain technologies to financial market participants. The company notably introduces professional experience and a carefully developed structure to the growing crypto industry.
"By leveraging decades of experience in the investment banking, trading & FinTech sectors, and combining them with the power and transparency of the distributed ledger, trade.io has created a truly unique product that will revolutionize asset trading and investment banking."
While sharing details about the new exchange, trade.io CEO, Jim Preissler, stated:
"We are thrilled to announce the launch of our trade.io Exchange. The community has been eagerly waiting, so it gives me great trade.io Lugano Switzerland www.trade.io pleasure to announce that we will finally launch on 17th July. It will be a staggered launch to 1,000 people initially, with future clients to be on-boarded in the days to follow. "Following the BETA version of our Exchange where select members tested the platform, we are confident that we will satisfy the specifications stipulated to us by our community, and look forward to sharing in the successes of our upcoming official Exchange."
trade.io added that the first 1,000 users to experience the trade.io platform will be contacted through email in the days before the launch.