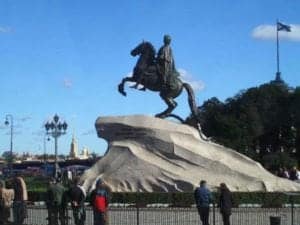 The Russian military is building "a military technopolis" in the Black Sea town of Anapa where 200 scientists will focus on creating blockchain tech for national security, Russian publication Izsvestia reports.
Protecting state secrets will be a priority at the new facility, which will welcome, "operators from the scientific company of the Krasnodar Higher Military School…(and) prepare specialists in the field of information security for all…types of troops."
The reporting includes a quote from "antivirus expert" at Kaspersky Labs, Alexei Malanov, who said that an access log replicated across a distributed ledger will mean that hackers have a harder time scrubbing their traces from multiple records:
"Often when an unauthorized intrusion (is made) into the device, an attacker cleans the access log located on it, hiding the traces of the attack. Using a log distributed to several devices (for example, in the form of a blockchain), you can minimize this risk."
German Klimenko of the Council of the Digital Economy Development Fund added that, "Viruses change the software or data code and try to disguise this fact from data integrity controllers," but blockchain could hold an immutable record of data that a network could check itself against. "Block(chain) by its nature can be a repository of the reference code and provide independent verification and validity of the data (or) code."
Klimnenko sees the military as leaders in the field. "The Ministry of Defense in many issues today is the driver of research, and this is useful for the entire industry."
The Izvestia report says that blockchain solutions are presently being investigated by NATO, which, "intends to use blockchain to protect financial information and logistics chains," and the Pentagon, which is, "creat(ing) a system of transfer of documentation protected from hackers…(by) this technology… (and) develop(ing) codes that the hackers will not be able to do."
The Anapa facility will cover a 17-hectare plot on the coast of the Black Sea, construction of residential and scientific buildings is underway and, "more than 600 pieces of equipment have already been ordered."
Although this type of research is already ongoing in the country, the devoted Anapa facility is scheduled to be opened in September of this year.