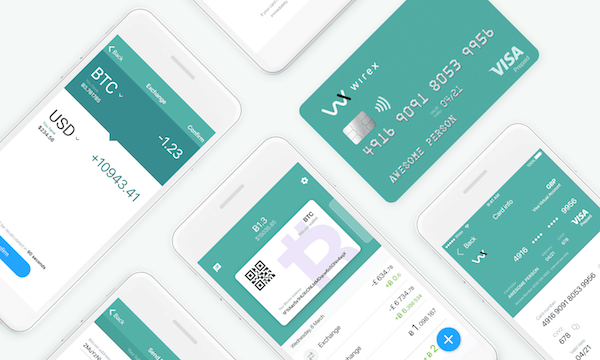 Wirex, a hybrid personal finance platform that merges blockchain tech and traditional finance, announced last week that users can buy, sell, exchange, and deposit XRP cryptocurrency using the Wirex mobile app. Founded in 2014, Wirex currently has 1.5 million customers in more than 120 countries and over $1.5 billion of transactions executed to date.
The platform noted that by combining benefits of blockchain with a traditional payments infrastructure in a single web-based and mobile application, it offers hybrid personal along with commercial payments and currency solution through hybrid fiat (traditional) currency and cryptocurrency online e-currency accounts; account-linked virtual and physical Visa debit cards; instant local and international money transfers and ATM withdrawals; and fiat and cryptocurrency exchange services. Speaking about the difference between XRP and Bitcoin, Wirex stated:
"Like Bitcoin, Ripple is both a P2P payment network and an altcoin. The platform and protocol are known as Ripple, while the payment token is XRP. Unlike Bitcoin, Ripple is a closed blockchain ecosystem – only trusted parties are authorised to operate its nodes. This allows users to make fast, low-cost, global payments by converting one currency to another. When Ripple launched, a finite number of coins were created and even fewer released. The network champions transparency, providing traders with all the necessary information they need to make informed investments. Unlike competing cryptos, Ripple has been adopted for internal remittance by many financial institutions – a sure sign of the protocol's versatility and reliability. Ripple emphasises the importance of digital security to prevent the production of counterfeit coins."
Through the new XRP Wallet, users can do the following:
Easily convert XRP to fiat and spend with your Wirex card*
Buy, sell, exchange and deposit XRP in-app
Link the wallet to your debit or credit card
Exchange 50 supported altcoins with XRP
Exchange between USD, GBP, EUR, BTC, and LTC (only available to EEA users)
Enjoy free crypto transactions between Wirex users
Wirex went on to add that full access to the "innovative" features on the Wirex app is only available to verified EEA users.