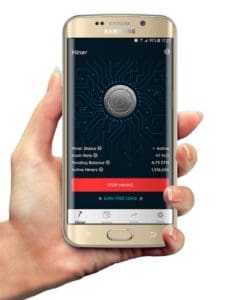 According to Electroneum, more than one million people have now downloaded their mobile cryptocurrency mining app on the Google Play store. Electroneum says their app enables users to mine and transfer its digital currency, ETN, through their phones Electroneum says it is one of only 25,271 out of the 3.8 million apps in the Google Play store to have one million plus installations. Electroneum says it broke the million-download mark just nine months after it was launched and has been downloaded by people in 200 countries across the world.
Electroneum CEO Richard Ells says their popularity is due to the fact it makes "cryptocurrency accessible."
"Anyone with a smartphone can download it and start mining and transferring ETN straightaway – giving people the chance to engage with cryptocurrency quickly and simply. The fact that people in 200 countries across the world have downloaded this app shows there is a real appetite for this type of technology and for access to cryptocurrency – and predict it's only going to get bigger. One million app users is a great start – particularly as our blockchain has only been live for nine months – but we're aiming for more. We want to become a global enablement currency and the only way we'll achieve this is through mass adoption – and the route we're looking at involves the growing mobile payment market. Providing instant electronic payments, via a smartphone app, allows people without bank accounts – who are known as the unbanked – to access the digital world and improve their lives."
Electroneum reports that it is in the process of building a suite of products to help the underbanked. One of their products will allow people to earn money from their digital skills. Ellis believes there is a huge demand for these skills as businesses need social media content but don't have the resources to create it themselves.
"We're trying to act as a bridge between them and the people who have the skills to create it to open up a new market to a new set of suppliers," says Ellis. "If you look at websites like Fiverr and People Per Hour there is a growing demand for people to do this type of work. And the money that could be made from doing it could make a real difference to people in developing countries – especially in areas where the monthly income is around $100. In places like this, the ability to earn another three dollars – or the cryptocurrency equivalent – by taking on this type of work could have a real impact."
The addition of new features from Electroneum come at an opportune time as the decline in crypto pricing has made mining even more difficult with some smaller miners becoming unprofitable.

Sponsored Links by DQ Promote