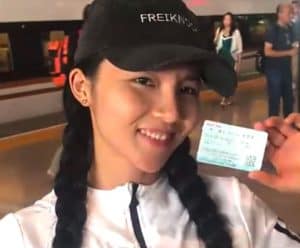 Support has been snowballing for a young woman attempting to live exclusively on .21 Bitcoin (about $1300) for 21 days in crypto-hostile China, Bitcoin.com reports.
He Youbing's experiment is being documented by a Chinese subscription channel, and 17 episodes of Bitcoin Girl 21 Days Digital Survival Challenge have already aired.
A rough translations of a text introducing the series outlines the challenge's parameters:
"There is such a girl, she is a blockchain believer. She said she wanted to rush into a city alone one day and be an experiment that only survived by Bitcoin. Challenge rules: 1. With 0.21 bitcoins, one person lives in Beijing for 21 days. 2, only payable in bitcoin, can not accept any charity."
In the documentary, she is seen traveling by train and on foot carrying only a bedroll and the cellphone with which she can transact using a digital wallet.
Before China enacted an outright crypto ban in September 2017, an estimated 90% of Bitcoin transactions in the world were being conducted in Chinese currency. That number has since dropped to around 5%.
Brisk activity at cryptocurrency exchanges in locations adjacent to China, however, including Japan, Singapore and Taiwan, suggests determined Chinese crypto traders may be continuing their activity offshore and outside of direct Chinese government control.
That she is doing her challenge so publicly is remarkable given a spate of follow up crypto countermeasures in China initiated this summer, including the blacklisting of crypto media social accounts, the censure of crypto forums, the banning of crypto promotional events, compliance crackdowns on crypto-trading by payment app providers Alipay and WeChat Pay, and the censoring of Chinese citizen's web access to offshore exchanges.
The first two days of He's experiment reportedly proved very challenging and were mostly spent trying to raise awareness while dining on free condiments and leftovers. "Though she manages to find an unlocked public bike, helping to make her case to more potential businesses and ordinary people, she finishes her night exhausted and defeated, sleeping at a McDonald's," writes C Edward Kelso at Bitcoin.com.
By the end of the second day, He is stressed and vomiting at hospital, where well-wishers turn up with food. He exchanges it for Bitcoin.
An art gallery puts her up on the third night.
Soon, dedicated WeChat groups have formed around He's challenge, and more people willing to exchange Bitcoin for goods and services appear. He finds a restaurant outside of Beijing willing to accept Bitcoin, and elsewhere exchanges Bitcoin for clothes.
This video features He Youbing with an English speaker explaining part of her odyssey.
---
Sponsored Links by DQ Promote