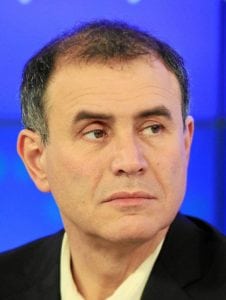 The Senate Committee on Banking, Housing and Urban Affairs, has scheduled a hearing that should be a fascinating debate on the topic of cryptocurrency and blockchain technology.
Entitled Exploring the Cryptocurrency and Blockchain Ecosystem, the hearing is scheduled to take place on Thursday, October 11th at 10:00AM ET at the Dirksen Senate Office Building 538. The hearing is open to the public but for those not able to be in Washington, DC, the proceedings will be live streamed on the Committee website.
The Hearing will engage two of the strongest voices in the crypto debate: Peter Van Valkenburgh, Director of Research, Coin Center and Dr. Nouriel Roubini, Professor of Economics and International Business, New York University Stern School of Business.
Roubini, also known by some as Dr. Doom, is a vocal detractor of cryptocurrencies having labeled it a scam and blockchain technology a "glorified spreadsheet."
Valkenburgh, a policy wonk and regular suspect on Capitol Hill, is one of the most eloquent defenders of the new financial technology.
This is a Hearing that should not be missed. Currently, on Capitol Hill, there is much discussion as to how to best regulate coin or token offerings. Much of the discussion is exploratory as the terminology and process is quite new. The high profile scams affiliated with initial coin offerings (ICOs) has tarnished crypto to a degree yet many industry participants see opportunity with distributed ledger technology or blockchain tech.
You may watch the entire proceedings here.