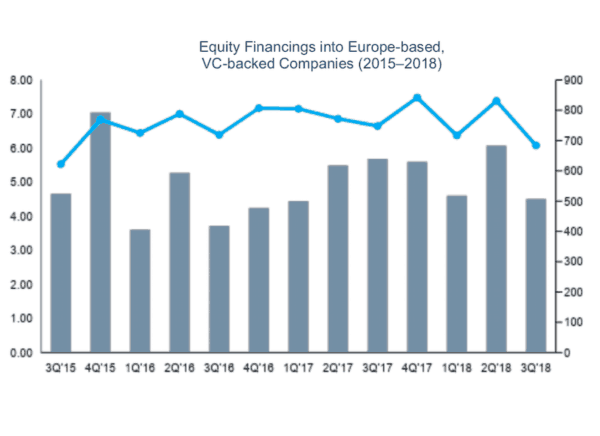 Dow Jones VentureSource is out with their quarterly report on VC activity for Q3 of 2018. According to their numbers, European VC fundraising increased during Q3 but investment in European companies "showed a notable decline in deal flow activity and investment levels."
The report states that VC investment for the quarter totaled €3.51 billion across 24 European VC funds. This is a significant increase of 50% versus Q2 of 2018. Additionally, when comparing to Q3 of 2017 both capital and fund closings increased by 90% and 14% – respectively.
Dow Jones says that European VC-backed companies received €4.51 billion through 684 deals in Q3. This represents a decrease of 26% in investment and 18% in the number of financings versus Q2 2018. Comparing to the same quarter last in 2017, capital raised came in 21% lower and the number of financings fell by 9%.
As one has come to expect, the United Kingdom was the top destination for equity financing in European VC-backed companies, bringing in €1.97 billion during Q3.
France came in second raising €586.03 million for 78 deals. Germany ranked third in terms of capital raised, with investment totaling €544.81 million, and second in terms of number of deals, with 83. Switzerland followed raising €350.21 million for 21 deals.
Regarding liquidity, European IPO tanked in Q3.
Venture backed firms going public dropped by 59% for the number of IPOs as only 9 VC backed firms went public.
Rising interest rates, Brexit, European elections and a US trade "skirmish" are most likely taking a toll. Uncertainty drives risk and pushes investors to back off. Expect more of the same in Q4.
You can read the Dow Jones VentureSource Report for Q3 2018 here.