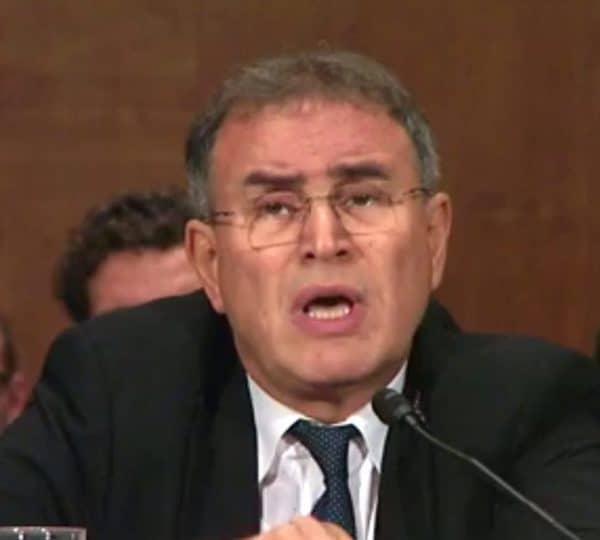 Dr. Nouriel Roubini, also known as "Dr. Doom," has extended his crypto / blockchain bashing on Twitter during the past few days. Following a widely viewed Senate Banking Committee hearing where Dr. Roubini submitted a 37 page document that eviscerated the concept of cryptocurrency calling it the "Mother of All Scams," he has continued his diatribe with pointed criticism on both the technology and individuals active in the blockchains space.
To quote Dr. Roubini:
"The symbol of all crypto greed is that guru, investigated for pedophilia, who sets up shop in a luxury mansion in Puerto Rico just to evade taxes & who pretends to want to save Puerto Rico with a shitcoin after the hurricane. Bloodsucker leeching on the blood of 4K dead folks!"
"So BTC based on PoW is dead while the new chimera of crypto dreamers is PoS. @VitalikButerin promised PoS in 2013. Still nowhere to be seen. And anyone with any clue in crypto knows that PoS will be an even more centralized mining oligopoly – and thus not secure – than PoW"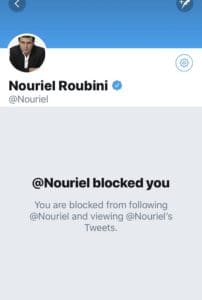 "The Crypto middlemen are a dangerous & shady oligopoly in shady jurisdiction like China (where 75% of BTC is mined) or Russia. So Crypto nuts want to replace reputable institutions like the Fed with oligopolies in authoritarian countries. What a nuttery. Decentralization is B/S!"
"99% of thousands of shitcoins are down 90% to 99% from peak. A total Crypto-Apocalypse and Meltdown"
"Markets have spoken this year: since the peak BTC is down 70%, ETH, XRP & other major crypto-currencies are down 80-85%: while thousands of shitcoins are down 95-99%. The market has spoken. & stop bragging about high returns in previous years. Crypto land is in meltdown NOW"
"So instead of trusting governments I need to trust an oligopoly of Chinese miners who are shady and plan to shaft me? Get real once and for all: there is NO decentralization in crypto. It is a myth. It is a system controlled by a shady oligopoly of miners in shadier countries"
"Agreed. Tether is the Mother of all crypto scams and propping up Bitcoin and all the other shitcoins by up to 80%. But regulators who started to investigate Tether/Bitfinex months ago are still asleep at the wheel"
Indeed provoking them triggers the most lunatic, crazy, nutty, delirious and racist commentary by a bunch of ignoramuses who have ZERO financial literacy: they know nothing about money, finance, banking. They live and drown in their stinking cesspool of shitcoins https://t.co/6bp8gzic5T

— Nouriel Roubini (@Nouriel) October 14, 2018
There is quite a bit more crypto bashing from the prominent professor and he appears to be determined to single handedly topple blockchain. But it is also interesting to note that Roubini is blocking some who may challenge his point of view.
An equally qualified individual, Caitlin Long – who is a crypto advocate and Wall Street veteran with 22 years of corporate finance experience (1994-2016 Morgan Stanley, Credit Suisse, Salomon Brothers), appears to have offended Dr. Roubini to the degree he has blocked her access to his Twitter account.
Vacuous defense of the status quo financial system! #bitcoinisfreedom #badgeofhonor pic.twitter.com/YlMwTBciVU

— Caitlin Long (@CaitlinLong_) October 13, 2018
Long is not alone in being shunned by Dr. Roubini. There are others and it appears the banning has become a badge of honor of sorts from the crypto-sphere.
As I poke fun of these crypto crazies and lunatics they all come out of their shitcoin filled cesspools and hurl nasty insults against me 24/7. So I block them all. And 99% of them are angry white males who are totals life losers. Proves my point on crypto as right wing nuttery

— Nouriel Roubini (@Nouriel) October 13, 2018
Perhaps the one good thing that has come from Roubini's one sided litigation is he has agreed to debate Vitalik Buterin – the creator of Ethereum.  The question now – is when?
Happy to have a live debate with @VitalikButerin . We can agree on a fair moderator that we both agree on, not on biased shills pretending to be pseudo-journalists but who are PR folks for the crypto industry. I have no interest to interact with @laurashin https://t.co/J5EJcphaNV

— Nouriel Roubini (@Nouriel) October 13, 2018
Sponsored Links by DQ Promote