Accenture (NYSE: ACN) announced earlier this week it has acquired TargetST8 Consulting, a privately held financial services consulting firm specializing in corporate and commercial lending, with offices in New York.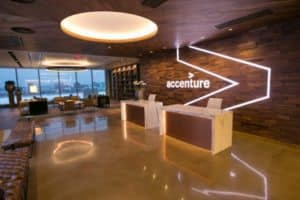 According to Accenture, TargetST8 focuses exclusively on the financial markets. By serving leading banks and investment firms in the U.S. and Europe, the company helps its clients leverage proprietary digital lending solutions, including deploying artificial intelligence and robotic process automation.
Accenture noted that the addition of TargetST8 will complement and enhance its commercial and corporate lending capabilities, as well as bolster if credit consulting practices. Speaking about the acquisition, Alan McIntyre, who leads Accenture's Banking practice globally, stated:
"TargetST8 consultants are known for their deep expertise, innovative digital solutions, and outstanding project delivery — particularly in their implementation of Finastra's Loan IQ solution. The addition of TargetST8 will enhance our ability to help our commercial and corporate lending clients improve their processes and transform their businesses."
Steve Shyn, managing partner at TargetST8, added:
"Accenture's scale, scope and reputation for excellence will benefit our clients and enable our employees to further develop their expertise. Our clients and employees will benefit from accelerated opportunities from the acquisition. We are excited to become part of one of the world's leading companies."
Terms of the acquisition's transaction were not disclosed.