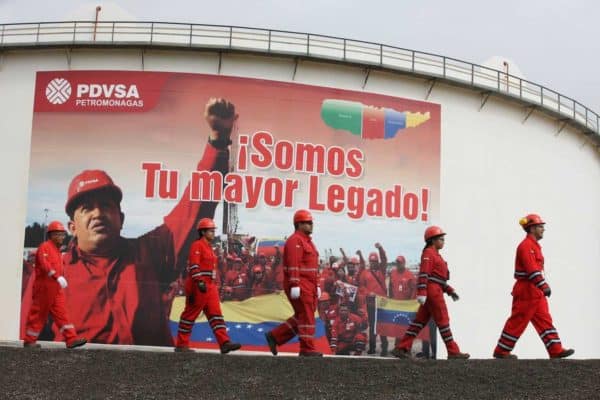 Venezuela's Minister of Petroleum says he has been invited by the Secretary-General of OPEC to propose that Venezuela's new state-issued cryptocurrency, El Petro, become the standard unit of account in global oil markets, XinhuaNet reports.
Minister Manuel Quevedo, who is also President of the Venezuelan state-owned oil company PDVSA, said that the presentation before members of the Organization of Petroleum Exporting Countries (OPEC) will take place, "during the first half of 2019."
Venezuela, which launched El Petro officially on October 28th, claims the new currency, built on the NEM blockchain platform, is backed by oil in Venezuela's Orinoco belt.
Some critics, however, including former Venezuelan Oil Minister under Chavez Rafael Ramirez, says the country lacks the necessary infrastructure, capital and wherewithal to properly develop the resource, Reuters reports.
According to Reuters, Ramirez, who lives in exile, wrote against El Petro on the online Venezuelan news site Apporea in August, stating:
"The petro is being set at an arbitrary value, which only exists in the government's imagination."
OPEC was created in 1960 by founding members Iran, Iraq, Kuwait, Saudi Arabia and Venezuela in order to,"co-ordinate and unify petroleum policies among Member Countries,…(and) secure fair and stable prices for petroleum producers…"
In subsequent years, Qatar, Indonesia, Libya, the United Arab Emirates, Algeria, Nigeria, Ecuador, Gabon, Angola, Equatorial Guinea and Congo also joined. Indonesia left in 2016.
Cuban news outlet PL English has written that Venezuela will also, "begin to market hydrocarbons in the aforementioned digital currency in the first quarter of 2019."
According to PL English paraphrasing Minister Quevedo, the minister believes El Petro will, "guarantees the growth and prosperity of the country's economic recovery."
The same news report claims that the troubled country, which is affected by US and EU sanctions, also hopes to use El Petro, "to facilitate the acquisition of Venezuelan raw material on a world scale, commercial exchange, the increase of import and export, and the increase of access and exchange for currency or any cryptocurrency."
This summer, thousands of citizens attempting to flee shortages and hyperinflation in Venezuela began pouring over borders into neighbouring countries.
In July, the IMF predicted that inflation in Venezuela could top one million percent by year's end.
As outflows of refugees began to strain resources in destination countries, Ecuador and Peru started denying entry to Venezuelans not holding valid passports.
Then on Friday, October 5th, new Venezuelan Vice-President Delcy Rodriguez announced that, effective immediately, newly-issued Venezuelan passports would have to be paid for in El Petro- at a cost of four months wages.
The change was made three-and-a-half weeks before El Petro came available for public sale.
In the same press conference, Rodriquez announced the creation of a new migratory police force, "…born to preserve citizen security and migratory control."
Venezuela has also implemented a new "Carnet de la Patria" digital ID card to administer payments to citizens and track citizens' economic activity, including, "…your family, your income, the size of the place you live in, the available rooms in it…"