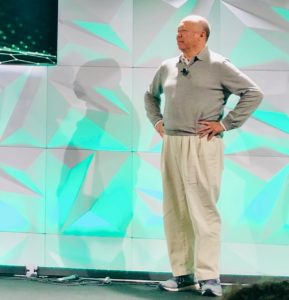 Blockchain startup Sweetbridge has added former Director of the US Mint, Edmund Moy to its advisory board.
Moy is said to be one of the first senior federal government officials to embrace the potential of cryptocurrencies and blockchain technology.
Sweetbridge is described as a network that will use the power of blockchain tech and combine it real-world value transfer. Its product stack is said to solve fundamental problems hampering commerce today: reconciling the legal, accounting, payment and identity of all parties, providing real-time audited financial results and building a trusted network that is never out of sync.
While Sweetbridge skipped over the ICO rave and worked immediately on being regulatory compliant, the individual member portion of the Sweetbridge public crowdsale (SWC) is closing on November 15th.
Today, Sweetbridge is one of three projects to be accepted into the Arizona Financial Technology Sandbox, a winner of the world's first Lufthansa SAP Blockchain Aviation Challenge,
As the director of the United States Mint, Moy was formerly responsible for running the world's largest manufacturer of fiat currency in circulation. Moy also served as a special assistant to the president for presidential personnel at the White House.
Moy commented on his appointment saying he believes Sweetbridge is poised to become one of the premier companies that fulfills blockchain's promise to modernize supply chains and their financing.
Other Sweetbridge Advisory Board members include Don Tapscott, CEO of Tapscott Group and Co-Founder of the Blockchain Research Institute and Vinay Gupta, CEO of Mattereum.
Scott Nelson, CEO & Chairman of Sweetbridge said they were delighted to have Moy to support their growth:
"As we get close to the individual portion of our public crowdsale closing and turn our attention to corporates and enterprises, his insight and extensive network will be invaluable for turning our vision into a reality. We are extremely proud of the calibre of our board and feel it is testament to the revolutionary financial system we are building, that is designed to create a better way."
Sponsored Links by DQ Promote