Announced less than a year ago, LendingClub's (NYSE:LC) new Club Certificates have topped the $1 billion mark, according to a release by the marketplace lending platform. The Club Certificates is an entirely new pass through security designed to make it easier for institutional investors to participate in LendingClub originated loans. Trading over the counter with a CUSIP and cleared by DTCC, the new security appears to be a hit with lenders.  The Club Certificates can be seen on dv01, Bloomberg, and Intex with the "CLUBC" ticker.
Valerie Kay, Chief Capital Officer of LendingClub, said the innovative structure significantly expands and diversifies their investor base:
"Our Club Certificates are a result of direct conversations we had with buyers of our securitization deals. We listened to their feedback and delivered a structure that suits their specific needs. The result is incredible demand for the product from some of the top names in asset management."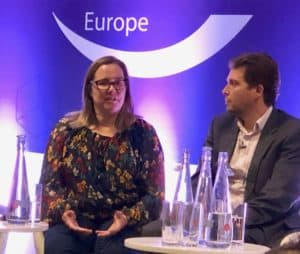 Speaking to Crowdfund Insider during the annual LendIt Fintech conference in London, Kay explained that LendingClub effectively created their own ABS program. The fact LendingClub has been able to grow Club Certificates from Zero to a billion just through their own platform, without the help of big banks, is impressive.
"It is going to grow significantly," predicted Kay.