An initial coin offering (ICO) that apparently raised $158 million is running out of money, according to a recent tweet. The statement was quickly denied by Sirin Labs CEO Moshe Hogeg who claimed they only raised 205,000 ETH – currently worth about USD $20 million.
As crypto tanked, any holders of ETH (or any other crypto for that matter) saw their values sink.
Sirin Labs raised $158 million in an ICO last year. Today their CEO said that they have enough funds for 6-12 months and that they are pivoting from smarphones to software. How much did they spend for the partnership with Lionel Messi? How much on lambos? Crazy pic.twitter.com/oxGAXAkhXy

— Larry Cermak (@lawmaster) December 8, 2018
One of the marketing expenditures that Sirin Labs apparently spent some of their funding on was the enlist global football star Lionel Massi to help promote the brand as a "partner."
OK ok let's get things straight, Sirin got 205,000 ETH, that's around 17M today, thank God we managed risks and sold enough to get through this hard year and I think we have enough to become profitable, I've never said we're pivoting, our distributors order book is >100K phones!

— Moshe Hogeg (@moshehogeg) December 8, 2018
Whether or not Sirin Labs raised $158 million may be a moot point as the company admits they only have enough money to make it through the year. As indicated in the tweet above, Hogeg believes they have sufficient funding to survive – if they can sell their product.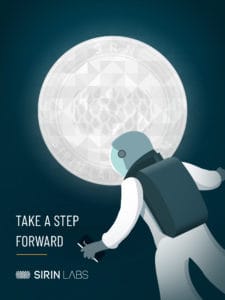 Sirin Labs is not alone in its struggle to keep afloat after a successful ICO and many industry insiders expect most ICO issuers to fail (like many startups) wiping out all or most of any value. Other ICOs may have smartly swapped out of crypto and into Fiat – a far less volatile form of currency.
In a series of tweets, Hogeg admitted they need to become profitable soon:
"It's true that without sales that's about what we have but guess what… We have sales. She asked me without sales and I've answered that without sales we will only have less then a year and if we won't sell we will pivot. Just buy the phone and then tweet again."
In 2017 and part of 2018, most ICOs raised money based on little more than a white paper and a promise. Fast money poured in due to a perception that speculative gains could be quickly earned – true for some but for most "investors" they will end up with little more than a good story.
Sirin Labs is looking to create a "State-of-the-art blockchain smartphone with P2P resource sharing, built-in "cold storage" crypto wallet."
Late last month, Sirin Labs introduced the Finney blockchain smartphone. When Finney is released later this month, the company says that users will be rewarded with up to $300 of redeemable crypto for learning about new projects.
Finney is said to be a "revolutionary device" that will "upend the crypto world."
Update: CI received a note from a Sirin Labs representative saying Moshe Hogeg's statements were taken out of context. The representative said:
Sirin Labs raised a little over 200,000 Ether, which is currently approximately $16m. We managed our risk efficiently by converting enough Ether to develop an amazing phone (for example, the Google Pixel camera module budget cost around $200 million to develop). I believe we have enough money to make Sirin Labs a profitable company, even in today's market, even though our task is more challenging these days, unfortunately.

Regarding abandoning hardware production, he was asked about what would happen if Finney  did not have enough buyers, and he answered that if there were not sufficient sales, then our focus would shift more into the software for other phone manufacturers.

It's also important to recognize that our vision and business model has always included the promotion of Sirin OS to be used within other OEM devices, and we are already in talks with several OEMs to do so.

Thankfully, we currently have more orders than we initially expected, with over 100,000 orders for phones from distributors alone.
Sponsored Links by DQ Promote