PaySend, a UK-based global payments platform, has formed a new partnership with Vietcombank Remittance Company (VCBR). This news comes less than six months after PaySend secured $20 million through its latest funding round, which was led by investment firm MARCorp Financial.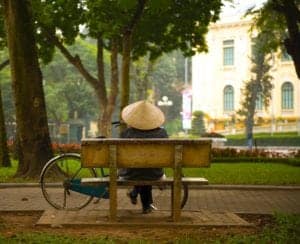 According to Finextra, the partnership between PaySend and VCBR will let anyone from anywhere in the world send money directly to any bank account, NAPAS card, Visa or MasterCard issued in Vietnam. Speaking about the partnership, VCBR CEO, Mr. Trinh Hoai Nam, stated:
"We are very excited to sign this partnership agreement with PaySend which pioneers new technologies in the money transfer space. Our cooperation will allow any Vietnamese residents to receive money transfers from overseas directly to their bank accounts and NAPAS cards without a need to visit a branch. They can start shopping around or withdraw cash from their bank branch or any ATM in Vietnam straight away."
Ronald Millar, CEO of Paysend, also commented:
"We are delighted to partner with VCBR and offer our valued customers around the world the opportunity to send money from our website or app instantly to any bank account or card, including NAPAS cards in Vietnam. NAPAS is the leading payment card system in Vietnam with 100 million cards and adding them to our unique money transfer platform helps us realise our vision of fast and low-cost transfers for everyone in the world."
Millar went on to add:
"We operate in 70+ countries and our customers appreciate the unparalleled convenience, speed and cutting-edge innovation delivered by PaySend. We are delighted to offer it now to the Vietnamese diaspora and anyone who is doing business with Vietnam."
As previously reported, PaySend was founded in 2015 and describes itself as a UK fintech company and payments disruptor on a mission to change how money is moved around the world. The company claimed its the next generation money transfer platform that allows users to send funds from card to card from 40 to more than 60 countries.