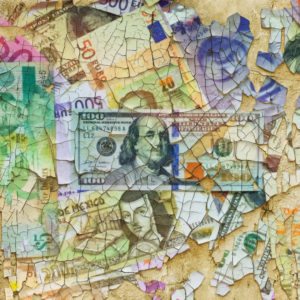 A 24-year-old alleged "scam artist" who characterizes himself as a Robin Hood-type has been arrested in Hong Kong for chucking a torrent of hundred dollar bills off a skyscraper in the Sham Shui Po neighborhood, one of Hong Kong's poorest, Shanghaiist reports.
Videos from the scene show banknotes "falling from the sky" as cheering individuals scramble to clap the bills from the air and collect them off the ground.
Police on the scene struggled to contain the action and ordered people not to pick up the money.
Wong Ching-kit, who runs the Epoch Cryptocurrency Facebook page and describes himself as a "Bitcoin millionaire," is believed to be the man responsible for the stunt.
A video of Wong posted to the Epoch Crypto page shows him standing in a black hoodie telling a camera:
"Today, December 15, is FCC's big day in announcing the trading race. I hope everyone here will pay attention to this important event …[I] don't know whether any of you will believe money can fall from the sky."
The camera on Wong then pans up and right to capture the scene of bills "fluttering" down from the roof of a nearby building.
Near the bottom of the video is a link soliciting interested parties to enroll in contests and win "big cash prizes."
A video posted after the "windfall" one shows Wong, "speak(ing) from inside of a luxury car, describing himself as a kind of 'god' who 'steals from the rich and gives to the poor.'"
But a tweet regarding Wong and the stunt characterizes him as a fraudster pervading a cryptocurrency pyramid scheme.
"He's not a Bitcoin Millionaire," tweets Leo Weese. "He is running a pyramid-like scheme well known in the community. Disappointed this is getting so much uncritical attention."
He's not a Bitcoin Millionaire. He is running a pyramid-like scheme well known in the community. Disappointed this is getting so much uncritical attention https://t.co/FSguI7sSkm

— Leo Weese 獅 草地 (@LeoAW) December 16, 2018
The stunt took place last Friday, December 14th and was reported then by the South China Morning Post (SCMP).

SCMP says Wong has conducted crypto promotions under several monikers, including, "Coin Young Master" and recently changed the name of his company from 'Oscar Holding Group' to 'Coin's Group.'

He has also been known to promote an HK$27,500 crypto mining rig.

In the SCMP article, Hong Kong lawyer Albert Luk Wai-hung, said "Coin Young Master"

breach(ed) the public order by causing disorder in a public place.

"How did he do his promotion? He wanted to create chaos to do it," he said.

The lawyer says the maximum penalties for such an offence are a fine of HK$5,000 and a12 months in prison .

After dispersing the crowds, the Hong Kong police force says it collected about HK $6000.

Then, on Sunday, Wong was arrested on the street as he was reportedly about to execute another stunt involving a thick wad of cash held in his hands.

According to the Shanghai-ist, Wong is now charged with "disorderly conduct in a public place."

Sponsored Links by DQ Promote