Hong Kong-based AI company SingularityNET announced last week it has launched its Developer Portal to enable developers to discover, learn, and adopt its decentralized AI network. The SingularityNET Foundation just hosted its first-ever developer workshop at DevOps 2018 as well.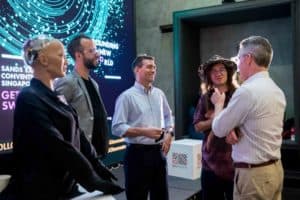 According to SingularityNET, the Developer Portal aims to provide accurate and detailed resources, tutorials, descriptions, and guides on how to utilize the SingularityNET platform, which lets anyone create, share, and monetize AI services at scale. While sharing more details about the new platform, SingularityNET CEO, Dr. Ben Goertzel, stated:
"We were really excited at the level of enthusiasm for the workshop and have already planned follow-ups and a number of video tutorials and webinars to meet the demand. The first half of the workshop focused on how to integrate AI agents into the SingularityNET beta platform architecture, and the second half focused on using the OpenCog cognitive architecture and deep neural networks to construct specific AI agents doing visual question answering. In subsequent workshops, we'll follow these themes and add new AI content. This is a significant milestone for the SingularityNET project and its rapid movement from concept to reality—just a couple of months before the February beta release."
Goertzel and SingularityNET also reported that they believe the safest approach, and the one most conducive to a high level of intelligence, creativity, and open-mindedness on the part of new AIs, is for AI development to be as globally inclusive and participatory as possible. SingularityNET has developers working on AI in 10 countries, which are Belgium, Ethiopia, New Zealand, Romania, the U.S., Brazil, China, Russia, Bulgaria, and the Netherlands.
SingularityNet then added additional developer workshops are scheduled for 2019 and new developers are invited to take advantage of the new Developer Portal.