Cutting the Red Tape.
We elect and appoint public officials to represent our best interests. Far too often, these policymakers take this mandate as a carte blanche to enact new laws and craft more rules. Unfortunately, this approach can be misguided as well-intentioned politicians and bureaucrats create more problems than they solve.
Recently, the Ontario government indicated their intent to do something about the regulatory morass.
In a public statement last December, Todd Smith, Minister of Economic Development, Job Creation and Trade indicatd their intent to reduce red tape and regulatory burden. The Minister announced a package of over 30 actions to reduce the burden on job creators. The goal is to cut business costs, harmonize regulatory requirements with other jurisdictions (ie provinces) and end regulatory duplication – an honorable mission.
In brief, Smith wants the world to know they are making Ontario open for business.
"We have a real problem in Ontario with red tape, which is a big part of the high cost of doing business here," said Smith. "It's more urgent than ever to lighten the regulatory burden so our job creators can grow and invest in Ontario. When our job creators thrive, our workers thrive."
Last week, the National Crowdfunding & Fintech Association of Canada (NCFA), the leading voice for innovation in Canada, has shared their recommendations to Ontario in a letter to government officials.
The NCFA believes:
Compared to Canada's global competitors, equity and debt crowdfunding is being stifled by a combination of regulatory burden (not just in the capital markets sector) and lack of coordinated government support (financial and otherwise). Our 2000 members tell us that many start-ups are leaving Ontario and Canada and seeking capital elsewhere, while many fail even to get off the ground. Alternatively, to scale up, innovators are often (in effect) forced to sell to larger companies usually established elsewhere. In the result, Canada continues to be a branch plant economy, and we are falling further behind.
The crowdfunding and Fintech sectors urgently need:

Harmonized offering memorandum exemptions across provincial and territorial jurisdictions;
Harmonized start-up exemptions with higher caps – the OSC exemption has not been used;
Proportionate, risk-based, outcomes-focused regulation (and supervision) with an end to prescriptive regulatory requirements that are not justified by ongoing cost-benefit analyses;
More education for stakeholders, and the research/data needed by regulators, governments, and the industry: to keep up-to-date with very quickly changing markets, to make better decisions, and to more quickly correct roadblocks to success;
Government support equivalent to that provided in jurisdictions like the UK and Singapore.
The NCFA is proposing a common sense approach for policymakers to pursue that boosts both Fintech innovation and access to capital. Will the Ontario government listen to the NCFA's requests?
The ball is now in the court of the Ontario Government.
The NCFA letter is below.
---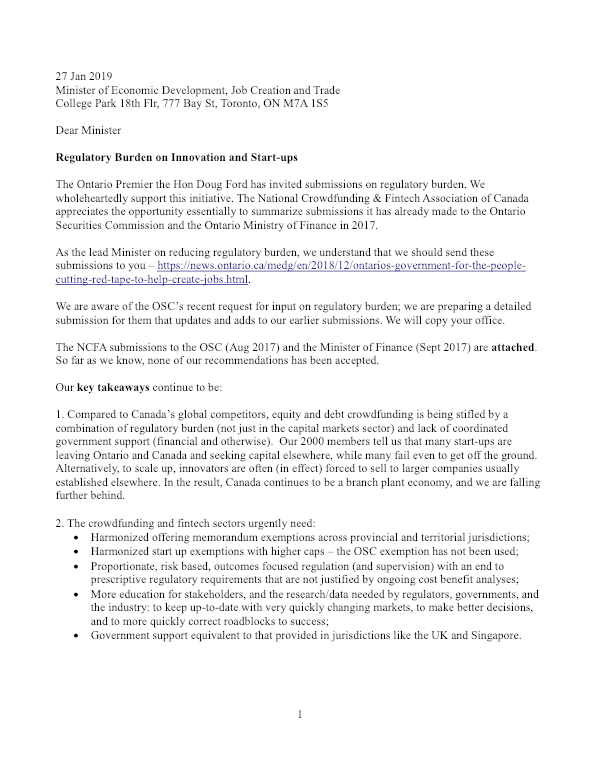 ---
Sponsored Links by DQ Promote