The Consumer Financial Protection Bureau has proposed changes to the 2017 final rule governing "Payday, Vehicle Title, and Certain High-Cost Installment Loans."
In brief, the CFPB is proposing to "rescind the rule's requirements that lenders make certain underwriting determinations before issuing payday, single-payment vehicle title, and longer-term balloon payment loans."
The agency states that its findings indicate that rescinding this requirement would increase consumer access to credit. The proposed rule-making was kicked off during the tenure of former Acting CFPB Director Mulvaney in October 2018.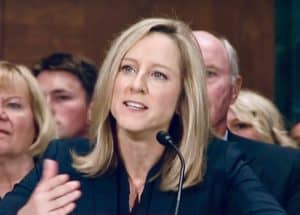 According to the CFPB, the proposal suggests there was "insufficient evidence and legal support for the mandatory underwriting provisions in the 2017 final rule." The "Notice of Proposed Rulemakings," or NPRMs, is open for public comment for 90 days.
"The Bureau will evaluate the comments, weigh the evidence, and then make its decision," stated CFPB Director Kathy Kraninger. "In the meantime, I look forward to working with fellow state and federal regulators to enforce the law against bad actors and encourage robust market competition to improve access, quality, and cost of credit for consumers."
The Online Lenders Alliance (OLA) quickly issued a statement.
Mary Jackson, CEO of the OLA, said:
"Our goal in this rule or any regulatory action is to ensure people who need short term, small dollar loans can get them from safe, regulated, reliable lenders online.  There is a need for credit among the vast majority of Americans who can't afford a financial shock like a job interruption, medical emergency, or car or home repair. We may have additional comments on the specifics of this rule in the near future, but we look forward to working with the bureau and with all stakeholders to preserve access to credit and credit inclusion for all Americans."
On the other side of the aisle stands the federation of state Public Interest Research Groups (PIRG).
PIRG consumer campaign director Mike Litt issued this statement:
"The Consumer Financial Protection Bureau, under Director Kathy Kraninger, has officially given predatory debt traps its seal of approval. By proposing to get rid of its underwriting requirement, the CFPB is gutting its own protections. These protections were already a compromise. Just this year, in an overwhelming citizen ballot vote, Colorado became the 16th state (along with D.C.) to cap loans at 36 percent APR. This served as an important alternative to allowing triple-digit payday debt traps. But consumers in other states need protections too. The CFPB is prohibited from setting interest rate caps. So under previous Director Richard Cordray, it did the next best thing by simply requiring lenders to check if a customer can repay the high-interest rates."
Litt called the proposal "a reckless rubber-stamping of predatory lending."

Sponsored Links by DQ Promote